Samsung Australia unveiled its new Samsung Smart MultiXpress series of multi-function device (MFD) printer models equipped with the Android operating system.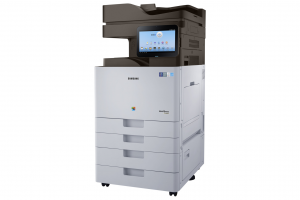 The new printers, featuring Samsung's Smart UX Centre that enables them to operate independently without the need for a PC, are now available on the Australian market.
"Samsung is committed to developing simple and efficient methods to help maximise productivity and efficiency for Australian companies," said Todd Lynton, Director – Enterprise and Small Medium Business, Samsung Electronics Australia.
"Our new printer line combines advanced printing technology innovation and performance with the user friendly Android operating system to provide businesses and IT administrators with Samsung's smart office experience."
According to the news release by Samsung, The Smart MultiXpress series MFD comprises eight new models from four different printer categories, including:
X4300 series of A3 Colour MFDs;
K4350 series of A3 Monochrome MFDs;
M5370 series of A4 Monochrome MFDs;
M4580 series of A4 Monochrome MFDs.
Each printer has a 10.1-inch full touchscreen panel that allows users to search and print from web browsers, emails, maps, images and other types of content (without the need to connect to a PC or server). Users can also use the touchscreen to preview or edit documents.
All Smart MultiXpress series MFDs are compatible with Samsung's XOA (eXtensible Open Architecture) printing solution platform, and can be customised to meet certain specialised business needs.
"The launch of Samsung's Smart MultiXpress series of MFDs will help provide fast document processing speed and help enable multiple users to print and scan large documents," reads the news release.
"In addition, the Smart MultiXpress series MFDs offers long lasting toner and drum technologies to help maximise the lifespan of previous Samsung MFDs and result in great reliability."
For more information, please go to www.samsung.com