High quality tools provider Snap-on Tools has released its eagerly awaited monster 18v lithium cordless grinder with huge torque.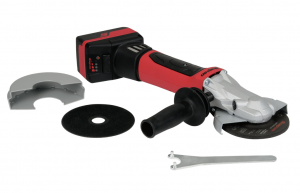 The new cordless version of the grinder is safe, has both low voltage and over current protection, a burst proof guard and a locking switch.
The cordless version not only provides users with the ultimate freedom to move, but also boasts all the power required to create desired surfaces and features an over and under temperature protection for switch and battery alike.
"This beauty has more stall torque than any other cordless grinder on the market. It's been in intensive development for some time, but the results speak for themselves. It is well worth waiting for," said Adam Scott, Product Manager for Snap-on tools Australia and New Zealand.
"We know it's important for customers to have flexibility with the cordless range. So we have an electronic safety clutch as well as a speed stabilizer, making it easy to use in difficult to access locations."
The cordless grinder has a massive 8000 RPM, and a maximum torque of 14 in lbs. The total weight with battery is only 5.5 lbs (2.5 kilos) for greater portability.
Customers can learn more about the new Snap-on cordless grinder (CTGRA8850) from their local participating Snap-on franchisee, visiting http://www.snapontools.com.au/or by calling Snapon Tools Australia toll-free on 1800 810 581.