RS Components, the world's leading high-service distributor of electronics, automation and control components, has announced that the first RS brand professional-quality 3D printer is available for purchase across Europe, Middle East, Africa (EMEA) and the Asia Pacific.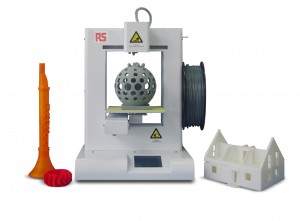 The RS IdeaWerk 3D printer features the Fused Deposition Modelling (FDM) technology and offers high-level specification including a build volume of 150 x 150 x 140mm and a minimum layer thickness resolution of 0.18mm.
Equipped with single-head system accepting 1.75mm-diameter PLA filament materials in many different colours – also available from RS – this exciting printer offers exceptional print output at a price of only HKD9,345 (A$1,560), making it approximately 30% cheaper than other 3D printers in its class.
The RS IdeaWerk 3D printer uses environmentally friendly PLA materials, which do not contain toxic or chemical pollutants and do not release unpleasant smells. These features, coupled with the machine's very low print noise, make it highly suitable for use in homes, industrial environments, as well as in offices or classrooms.
The RS IdeaWerk is easy to assemble and use and weighs only 7.5 kilograms, which makes it highly portable. Its robust and sturdy frame of 211(L) x 403(W) x 298mm(H) means that it is also well equipped to handle the toughest print jobs.
It can be used in either online or offline mode, i.e. with or without a PC with connectivity via SD Card or USB, and is compatible with Mac OS and Windows OSs including XP, Vista, 7 and 8/8.1, with no additional software or accessories necessary.
The introduction of the IdeaWerk 3D printer widens the growing range of rapid-prototyping machines now available from RS, whose portfolio includes other highly affordable 3D printers from 3D Systems, Ultimaker, BEEVERYCREATIVE and RepRapPro.
The company believes that its affordability and easy-to-use features will attract a wide range of users including electronics and mechanical engineers involved in design, prototyping and research and development, as well as enthusiasts and those in education.
RS Components is a trading brand of Electrocomponents plc, the global distributor for engineers, which operates in 32 countries and offers around 500,000 products through the internet, catalogues and at trade counters to over one million customers.