Two Swiss pilots made history yesterday when they took off from the Bateen executive airport in Abu Dhabi on a five-month journey around the world on board the Solar Impulse 2 – the world's first plane powered exclusively by solar energy.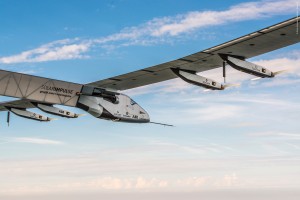 Leading power and automation technology group ABB has played a big part in getting this major project underway. In 2014, ABB formed an innovation and technology alliance with Solar Impulse, which saw the world's second-largest supplier of solar inverters provide its expertise and experience to the project to help maximise power yields from the solar cells and enhance the charging electronics for the plane's battery systems.
ABB Chief Executive Officer Ulrich Spiesshofer said the alliance with Solar Impulse underlined their mutual vision of reducing resource consumption and increasing the use of renewable energy. He said ABB was proud to accompany Solar Impulse and its flight crew on the historic trip around the world.
"ABB is proud of its innovation and technology alliance with Solar Impulse, and to be accompanying the first round-the-world flight powered by the sun on its journey," Mr Spiesshofer said.
"ABB and Solar Impulse are passionate about pushing the boundaries of technology and innovation to achieve a better world."
The plane's historic journey envisions several stops along the 35,000 kilometre route. Pilots Bertrand Piccard and Andre Borschberg will take turns in the cockpit and make scheduled stops in cities including Muscat, Oman; Ahmedabad and Varanasi in India; Mandalay in Myanmar; Chongqing and Nanjing in China; and Hawaii, Phoenix and New York in the United States.
The most challenging part of the journey will be a non-stop flight of five days and nights across much of the Pacific Ocean, when the plane – powered by 17,248 solar cells – will ascend to altitudes approaching 10,000 meters during the day while fully charging its batteries to stay aloft throughout the night.
ABB is one of the world's largest makers of transformers, electric motors and variable-speed drives and a leader in integrating renewables efficiently and reliably into power grids. It is estimated that its installed base of drives saved more than 445 terawatt-hours of electricity in 2014, equal to the annual consumption of about 110 million European households.
"When we speak of clean technologies for the world, it is not a dream, it is real. ABB is bringing them on to the market, and has already saved the energy equivalent of millions of households," said Piccard, who was part of the first team to circle the earth in a balloon in 1999.