3D Systems will host a one-hour public webinar on its most recent case study – "Bi-Link takes the no-compromise road to producing 3D-printed injection moulds and parts" – on 17 March, 2015.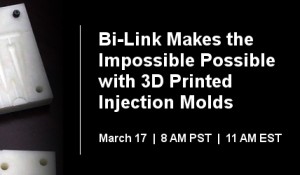 Bi-Link is a worldwide engineering and manufacturing company based in Bloomingdale, Illinois, that helps its customers innovate and get their products to market faster and more economically by pushing the boundaries of 3D printing.
The company relies on three ProJet® 3500 HD Max printers from 3D Systems to produce injection mould tooling and sample parts.
According to Bi-Link's president, Ray Ziganto, the combination of 3D Systems' printers, advanced materials, and a proprietary post-processing tempering technique gives the finished moulds for professional-grade design and manufacturing applications greater strength than the original material.
Bi-Link's customers are electronics and medical manufacturing companies from all over the world and customer feedback has been great.
"Customers love this service. They would typically have to wait two to three weeks to get just tooling, never mind test parts. With the ProJet 3500 HD Max we made one customer four different part designs over the course of six days, shipping them 10-12 parts for each iteration overnight," says Frank Ziberna, R&D director for Bi-Link.
Bi-Link uses the same material as the customer's production parts to create sample parts and it has even developed 3D-printed moulds for insert-molding applications.
"The customer doesn't have to cut corners or make concessions in design. We provide parts with the actual material they will use in production, so they don't have to make design adjustments or modify parts. We make no concessions on tolerances. We demand the same quality for parts as we get out of a steel mould. Any part you can manufacture, we can produce from a 3D-printed mould — exact material at a lower cost and one-fifth the lead time," says Ziberna.
As many as 200 parts – featuring deep cores and recesses, tiny holes, clamp inserts in the mould, thin walls, small undercuts and so on – can be manufactured from a typical injection mould printed in the ProJet 3500 HD Max and finished with Bi-Link's tempering process.
"The future of 3D printing is limited only to one's imagination," concludes Curt Thornton of Teleflex, a global provider of medical devices used in critical care and surgery and Bi-Link's customer.
Participants in the one hour webinar will get the opportunity to learn:
How to get production plastic parts in a single day with 3D printed injection moulds;
Why 3D printed moulds are the perfect solution for low volume productions runs from 1 to a few hundred pieces;
How Bi-Link compresses design and test cycles from months to days for their satisfied customers;
Why Bi-Link makes no compromises as sample parts created use the same material as the customer's production parts.