Gregoire Poux-Guillaume, President of Alstom Grid, was joined by Monica Chittò, Mayor of Sesto San Giovanni and Michele Angelo Verna, General Manager of Assolombarda, at the opening ceremony of the company's new site in Sesto San Giovanni, near Milan in Italy.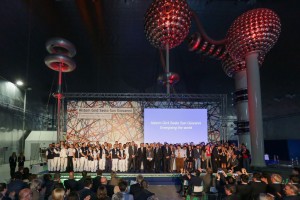 Alstom Grid's new plant is a green, sustainable, efficient, and innovative competence centre for the research, development, production and testing of bushings for both direct current (DC) and alternating current (AC) applications.
The company said that it invested over €30 million in the project, including the development and industrialisation of innovative bushing technologies such as wall-bushing for Ultra High Voltage Direct Current (UHVDC) and Resin Impregnated Paper (RIP).
According to the press release by Alstom, the site includes one of the largest test laboratories in Europe and is the company's worldwide technical competence centre for bushings that are used around the world for power transformers, gas insulated switchgear (GIS), generators as well as in AC/DC yards up to 1100 kV.
Lars Martinsson, Vice President for Power Transformers at Alstom Grid said the facility was also certified by the Leadership in Energy and Environmental Design (LEED) – an independent body which verifies that a building, home or community was designed and built using strategies aimed at achieving high performance in key areas of human and environmental health.
"This new facility is a real milestone for the company, marking Alstom's ability to supply the full range of bushing technology worldwide and reinforces its position as one of the top players in this market. Our technology, our production capability and our competent and experienced people will ensure our continuous success," Mr Martinsson said.
Alstom Grid Italy currently employs 400 people across three plants, including the Noventa di Piave plant in the Venezia district – an excellence centre for ultra-high and high-voltage disconnectors with research and development teams – as well as a manufacturing site for hybrid solutions and circuit breakers, and a Protection and Automation unit in Sesto San Giovanni.