Federal Industry and Science Minister Ian Macfarlane joined Victorian Industry Minister Lily D'Ambrosio at the unveiling ceremony of Toyota's new-look Camry at the company's Altona plant.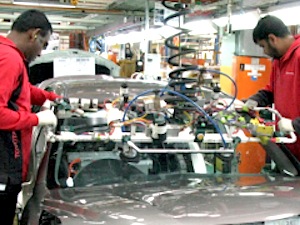 Speaking at the launch ceremony of the new model, Mr Macfarlane commended Toyota Australia's workforce and management for the innovation and expertise they have invested in the updated model, saying it involved more parts than a standard mid-cycle model facelift.
"Not only has the overhaul involved more than 800 parts, compared with the 50 to 100 changed in a normal mid-cycle model refresh, it has also been achieved in less time than a standard update," Mr Macfarlane said.
"There are significant changes taking place in the global automotive industry which impact Australia.  While manufacturing is undergoing a major transition as the three car-makers wind down production, there can be no doubt that Australia's automotive skills base is world-class, as is evidenced here today."
He said the Australian Government had contributed  $23.6 million to the $108.4 million Camry overhaul project as well $5 million to a complementary $15 million Supplier Productivity and Capability Programme aimed at helping Toyota Australia's suppliers improve their efficiency and productivity and diversify into new markets.
"I'm delighted that Toyota will continue to have a strong presence in Australia after 2017 through its Centre of Excellence. This will include a world-class training facility and commercial initiatives that will enhance the company's business," Mr Macfarlane added.
"The company has also strongly supported the Australian Government's $155 million Growth Fund which is assisting workers, businesses and regions affected by change in the automotive manufacturing industry. In particular, Toyota's $15 million contribution to the Skills and Training Initiative will help workers gain recognition for their skills and to train for new opportunities."
The Altona plant is one of nine facilities in the world producing the Camry and one of only six capable of making the hybrid version. The plant will produce around 90,000 vehicles this year, with three-quarters planned for export mainly to the Middle East.
Victorian Industry Minister D'Ambrosio said the Victorian Government was committed to the successful transition and diversification of Victoria's automotive industry with a view to reinforce the state's reputation as a centre of excellence for advanced manufacturing.
"The Andrews Labor Government will work with the automotive industry to successfully transition, reinforcing Victoria as a centre of excellence for advanced manufacturing, design and engineering," she said.
"We're supporting our manufacturing industry, which has a strong future in Victoria. Local industry is adapting to changed conditions and leading the way in global markets, creating jobs and growing our economy."