Technology from CSIRO's Newcastle Energy Centre has been successfully installed at the Cyprus Institute research facility – the premier research institute on the island nation of Cyprus.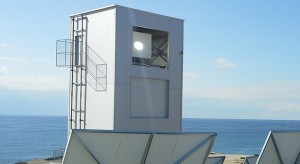 The solar thermal field, which spreads out over a half-acre plot of land at the south of the island, on a hill overlooking the Mediterranean Sea, consists of 50 heliostats, or mirrors, that accurately track the sun, reflecting light towards a receiver on top of a tower. The heat then warms a fluid, in this case molten salt which is heated to 250C and stored in a hot tank. The steam produced from this process powers a turbine for electricity, allowing for energy to be produced even after sundown.
"This project was a big step for CSIRO as it's the first time we've deployed this cutting edge technology outside of our own backyard. It's also the beginning of an exciting collaborative research program, having signed a MoU to undertake joint solar research with the Cyprus Institute," said CSIRO solar research leader Wes Stein.
"Our high-performance heliostats have a unique design that is well suited to the rugged terrain on Cyprus' south coast, allowing them to operate very efficiently. They are smaller than conventional heliostats, which gives the user more control over the intensity of the solar concentration. "They also feature a low cost design which allows them to be installed more affordably."
According to the news release, to satisfy European legislation, 13% of Cyprus' total energy consumption must be derived from renewable sources by 2020 and solar energy is perfectly suited for the island-country since it mainly depends on oil for electricity.
"Like Australia, Cyprus is blessed with an abundance of sunshine, so increasing the penetration of solar energy is an attractive option both in terms of energy affordability and lowering greenhouse gas emissions," said Professor Costas Papanicolas, President of the Cyprus Institute.
"We have enjoyed working with CSIRO to install this field in a professional manner, and we are extremely pleased with the performance."
CSIRO's Energy Centre in Newcastle focuses on low emission and renewable energy research and has two solar tower pilot facilities with more than 600 heliostats.