Metal-cutting machines manufacturer GF Machining Solutions, part of the Schaffhausen-based Georg Fischer AG, has inked a deal with additive manufacturing equipment maker EOS to integrate additive manufacturing machines to print metal mould inserts, including software and linkage with downstream machine tools and measuring devices.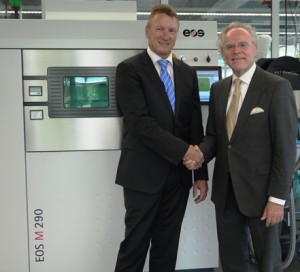 According to the official news release, the companies will unveil their first joint mould solutions at the EMO metalworking show in Milan, Italy, set to take place 5–10 October, 2015.
"We welcome very much this strategic partnership. GF and EOS complement each other very well to offer the large customer base of GF Machining Solutions a unique set of technologies," said GF CEO Yves Serra.
"The cooperation allows us to increase the value for customers within the mould and die sector, by integrating conventional and additive technologies. This is a large step towards seamless production and we join forces with a strong and experienced partner," added EOS founder and CEO, Dr Hans J. Langer.
Swiss-based industrial business GF Machining Solutions provides machine tools, automation solutions and customer services for the production of moulds, dies and high value-added metal parts.
The company said that the agreement with laser additive manufacturing equipment pioneer EOS is its first foray into the emerging world of additive manufacturing, and is further proof that the technology is now being taken seriously by the traditional metalworking sector.
Additive manufacturing will enable GF customers to generate metal inserts featuring cooling close to the surface, thus allowing for a shorter mould cooling sequence and a much faster plastic injection cycle time.
GF Machining Solutions has manufacturing facilities in Switzerland, Sweden and China, and serves its customers through its own sales companies in more than 50 countries.