Leading power and automation technology group ABB has inked a $24 million contract with engineering, procurement and construction contractor Kvaerner to install a customised Static Var Compensator (SVC) at the A/S Norske Shell processing and compression plant in Norway.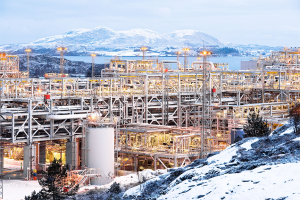 Located about 50km south of Kristiansund, the Nyhamna gas processing facility is presently undergoing a major expansion. The plant is operated by A/S Norske Shell.
"ABB has core expertise and an extensive track record in industrial plant electrification. The tailor-made SVC will decrease reactive power consumption and stabilise voltage for gas compressors at the new Nyhamna facility," said Peter Terwiesch, president of ABB Process Automation, which is leading ABB's internal team.
"In line with our Next Level strategy, we will use our technology strengths and combined power and automation expertise to deliver this important project for Kvaerner."
The SVC will compensate for fluctuations in the voltage and current of the grid that delivers power to the plant, allowing more electricity to flow through the network while improving power quality and maintaining network safety and stability. The compensator will also facilitate a number of essential operations, such as switching from a dual to a single in-feed, while handling increased load.
ABB previously supplied the Nyhamna plant with its flagship 800xA safety and automation system, which ensures efficient processes as well as electrification solutions that distribute power safely and reliably throughout the production areas.
"Since 2007, ABB has had a Service Environment agreement to maintain the safety and automation systems at Nyhamna," the company said in a media release.
The company also delivered electric drive systems that ensure the gas compressors run at the optimum speed, significantly reducing energy consumption and carbon dioxide emissions.