Spanish automotive components supplier Ficosa and Japanese electronics giant Panasonic signed a capital and business alliance on 30 June 2015.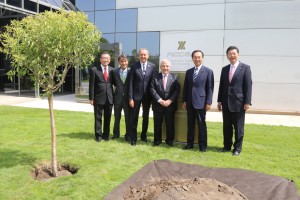 The deal was announced on 30 September 2014. On Monday, the two companies officially formalised their alliance.
Kazuhiro Tsuga, President of Panasonic Corporation, accompanied by the President of Ficosa, José Maria Pujol, and the CEO, Javier Pujol, visited the Ficosa facilities in Viladecavalls where they planted a young tree in the gardens as a symbol of the new alliance.
With the completion of the investment, now Panasonic has a 49% stake in Ficosa and will delegate four directors as Ficosa's member of the board for participating in its management.
The cooperation is set to accelerate the development of new products and integrate the firms' know-how in imaging technology and auto mirror technology.
"Through this capital and business alliance, Ficosa and Panasonic will accelerate the fusion and further evolution of the 'Comfort' and 'Safety' areas which is indispensable for the next generation cockpit systems, an area that shows great potential for growth," the companies said in a statement.
The two companies will also facilitate the launch of the electronic mirror systems business and will expand a business alliance in the ADAS (Advanced Driver Assistance Systems) area in the future.
Barcelona-based Ficosa and Osaka-based Panasonic say they will continue talks about strengthening their capital, business and technology partnership in the future.