UK start-up company Nipi Smart Cooler, the developer of the one-of-a-kind "smart" cooler Nipi, has managed to make a functional prototype 75% faster than using traditional manufacturing methods thanks to Stratasys 3D printing.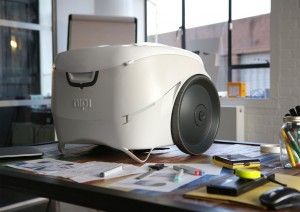 "For start-ups like us, I cannot overemphasise how important it is to quickly get to a stage where you can feasibly say whether your idea could be a viable product. Having access to 3D printing gives us the ability to make that decision faster than ever before," said Luke Guttery, Product Design Lead at Nipi Smart Cooler.
Nipi is an all-terrain vehicle that can charge your devices, keep drinks cool for six days and store valuable goods.
The cooler has two USB ports on the outside and two on the inside and it is powered by 14,000 mAh lithium polymer batteries and solar panels that can be mounted on its outer lid.
Nipi turned to UK 3D printing service provider, 3D Print Bureau to realise the initial concept designs as a 100% working prototype.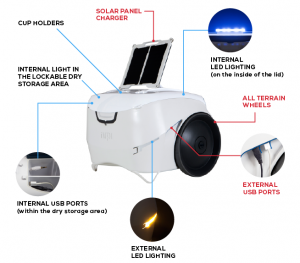 "It's amazing how quickly we could go from an idea on a piece of paper to a fully-functional prototype that we could test outdoors. Without 3D printing, this simply would not have been achievable in the given timeframe. In just a few days we had already produced the main body in UV resistant materials to test the solar panels in the sun, and large-scale over-moulded wheels with rigid interiors and rubber treads. Using this technology, we were able to develop a final working prototype in a just under a week, whereas with traditional manufacturing it would be closer to a month," said Mr Guttery.
"For many start-ups with great ideas, limited capital to supplement costly and time-consuming traditional manufacturing is often the reason some innovations fail to reach the marketplace. 3D printing grants product designers the means to quickly and cost-effectively determine whether their idea can function and perform as intended, and Nipi is the perfect example," said Andy Middleton, President of Stratasys EMEA.
The cooler comes in two colours, has two cup holders and also features internal and external lighting.
Stratasys multi-material 3D printing was also used to build some of the over-moulded parts of the Nipi such as the handles and large tires. Those parts required combinations of rigid and rubber-like materials.
"Utilising the best of each of Stratasys' 3D printing technologies was integral to getting a fully-functional, test-worthy prototype to the Nipi team," said Gary Miller, Managing Director of 3D Print Bureau.
"With the ASA material, we were able to develop a fade-resistant prototype specifically designed for outdoor use. Using multi-material 3D printing, we could accurately validate the pull of the handle and its weight-bearing ability, as well as defining the exact tread of the tires required before moving to final production. In fact, the ability to over-mould using 3D printing was integral as it helped us determine the shape, thickness and style of the tread you see on Nipi today."