AiGroup has reported that Australia's manufacturing sector expanded for a third straight month in September.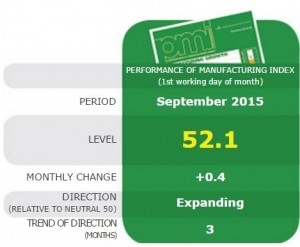 The falling Aussie dollar has boosted the Australian manufacturing sector with the Australian Industry Group's Performance of Manufacturing Index (PMI) rising 0.4 points to 52.1 in September.
"In encouraging news for an economy searching for sources of growth outside mining, September saw the manufacturing sector consolidate on gains generated in recent months. The lower Australian dollar is a clear driver with local producers winning against imports in the domestic market and making further progress in export markets. Last month the Australian dollar was about 10 per cent lower than the average for the first half of the calendar year and against the Trade Weighted Index, the domestic currency was around 7 per cent lower in September," said Ai Group Chief Executive, Innes Willox.
"The gains in the sector come despite continued weakness in two key manufacturing sub-sectors – metals, which is being buffeted by global demand/supply imbalances, and machinery and equipment, which despite areas of strong growth is battling the wind-down of automotive assembly and reduced orders from the mining sector."
According to AiGroup,  production, new orders, employment and supplier deliveries all expanded, inventories remained in contraction, while the food, beverages and tobacco sub-sector expanded for a sixteenth consecutive month in September.
Click here for the full report.