Norske Skog and Melbourne-based chemical technology research and development company Circa Group have entered into a joint venture to build a commercial demonstration plant for manufacturing bio-solvents.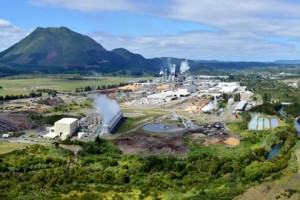 Minister for Resources Will Hodgman, who announced the investment on Friday, said the $6.6 million pilot project was supported by the Liberal Government with a $1.5 million grant and held the potential to lead to full-scale commercial production.
He said the plant will produce Cyrene – a non-toxic, cleaner alternative to fossil fuel-based solvents – and will use certified plantation wood, demonstrating the potential for value-added processing and the opportunities to grow the value of Tasmania's forest industries.
"The world wants new, more environmentally-sensitive products to replace those that use fossil fuels, and bio-technology is the way of the future. Norske Skog and Circa Group will produce about 50 tonnes a year of the bio-solvent Cyrene for export to the European pharmaceutical and agrichemical markets," Mr Hodgman said in a media statement.
"The investment is a vote of confidence in the Tasmanian economy, and will add to a long and proud history of forest-based processing at the Boyer Mill site. It also continues Norske Skog's efforts to move with the market and to position the company to capture emerging opportunities."
According to the minister, the Government's commitment will be drawn from unspent Commonwealth funding provided to the State under the Tasmanian Forest Agreement.
"This is a particularly appropriate use of these funds as they will help to grow – rather than shutdown – our forest industries; creating jobs rather than ending them," Mr Hodgman added.
"We are pleased to support this project, and commend all involved in their work to seek a new and exciting future direction for our forest industries."