The US Navy has awarded aerospace and defence technology company Northrop Grumman a three-phase contract to design, produce, integrate and support a shipboard Laser Weapon System Demonstrator.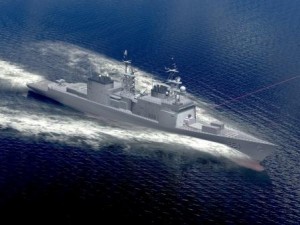 The contract, which could amount to $91 million over 3 years if all options are exercised, will see Northrop Grumman design and manufacture a 150-kilowatt-class solid state (electric) laser weapon system which will be fitted aboard the service's Self Defence Test Ship, the former USS Paul F. Foster.
"Northrop Grumman is integrating the latest in high energy lasers with more than 40 years of experience as a laser weapon system integrator to protect sailors against last-minute, high impact threats," said Guy Renard, director and program manager, directed energy, Northrop Grumman Aerospace Systems.
"For about the price of a gallon of diesel fuel per shot, we're offering the Navy a high-precision defensive approach that will protect not only its sailors, but also its wallet."
During Phase 1 of the contract, Northrop Grumman will develop a detailed design for the new system, while Phase 2 will include assembly and ground test of the system.
In a press release, the company said that Phase 3 will include at-sea testing of the system aboard the Navy's Self Defence Test Ship.