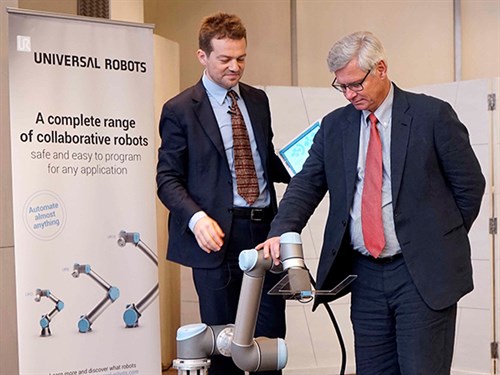 Universal Robots, the Danish robot manufacturer that pioneered collaborative tools, has unveiled its collaborative robots range at a launch event at India.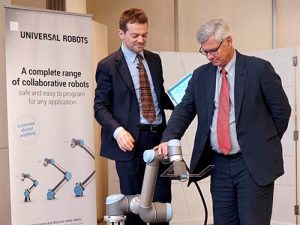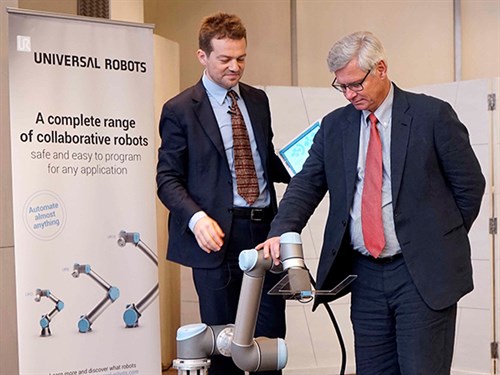 These collaborative robots, also called co-bots, are designed to work alongside humans and to assist them in performing a variety of tasks – particularly in repetitive and unsafe processes – thus ensuring safe work environments while increasing productivity and efficiency.
The benefits of mixing humans and robots in a work environment were proved in a recent human-machine study conducted by MIT researchers at a BMW factory.
The study found that teams of humans and robots collaborating efficiently can be around 85% more productive than teams consisting of either humans or robots.
Universal Robots' range includes simple, flexible and affordable collaborative robot arms – UR3, UR5 and UR10 – which were designed with the goal of making robot technology accessible for small and medium sized enterprises.
Easy to program and even easier to set up, these co-bots can also be moved around the production facility for multiple applications and can be floor, ceiling, and wall mounted as required.
Speaking about the launch of Universal Robots in India, Chief Technology Officer of Universal Robots Esben Østergaard said the company was delighted to introduce its advanced tools to the Indian market for increasing productivity, quality, and market competitiveness.
"Our collaborative robots help ease out processes in task driven industries like manufacturing, assembly and food processing. They work alongside their human co-workers to optimise and automate time consuming, repetitive and physically challenging activities in the production flow," Mr Østergaard said.
"We have also seen end users integrate our robot arms in applications and industries that we didn't initially expect. They have differentiated themselves in the market using our advanced tools innovatively. Universal Robots are being used with innovative applications like Neurosurgery, Bartending, Kiosk-based manufacturing, Physiotherapy, Aviaries, and even as Chef's assistants."