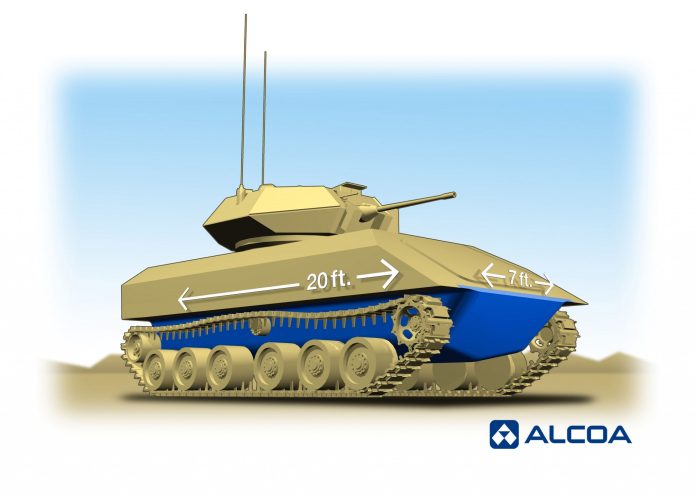 The US Army has handed lightweights metals leader Alcoa a five-year contract worth up to $50 million for R&D projects focused on developing innovative, lightweighting solutions for ground combat vehicles.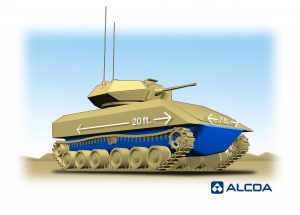 The company said the US Army Tank Automotive Research, Development and Engineering Centre (TARDEC) awarded Alcoa Defence a "Ground Vehicle Light-Weighing" contract to support efforts to accelerate technology R&D and "provide engineering solutions" for Department of Defence ground vehicles and intelligent ground systems.
"This agreement with TARDEC builds on Alcoa Defence's decades-long partnership with the U.S. Army to advance military ground vehicles," said Eric Roegner, President of Alcoa Defence.
"Alcoa's lightweight solutions have improved troop protection while reducing vehicle weight and assembly time. We look forward to building on our successful track record to help develop the next generation combat vehicle."
Alcoa's first objective under the contract is to advance its aluminium weld wire alloys, which have already been proven to increase the strengths of welded joints – the weakest point on a vehicle – as well as to reduce corrosion of those welded joints on combat vehicles.
"Under potential future work directives, Alcoa will provide material research, development, engineering, testing, and evaluation efforts related to ground vehicle lightweighting," the company said in a press release.
"These research and development efforts will address various technologies associated with lightweighting such as aluminium forming technology, fastening and joining, modelling and simulation, armour development, material development, material fabrication, energy conservation, and coating and corrosion technology."
The company has built a strong track record of partnering with the US Army to develop solutions that advance the performance of ground combat vehicles.
In 2013, Alcoa announced a joint Alcoa-US Army Research Laboratory (ARL) initiative to manufacture the world's biggest single-piece forged aluminium hull for combat vehicles—the largest closed die forging ever made – whereas in 2005, the US Army Tank-Automotive and Armaments Command (TACOM) awarded Alcoa a R&D and engineering contract to develop aluminium structures for ground combat and tactical vehicles under the Army Lightweight Structures Initiative.