The Australian Renewable Energy Agency (ARENA) has helped the Coober Pedy Renewable Diesel Hybrid project to reach financial close with $18.4 million funding support.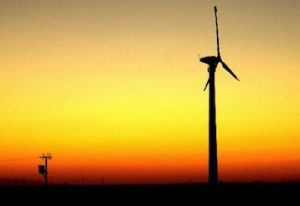 The project, which will be built and owned by Energy Developments Limited (EDL), will operate on a unique hybrid combination of 4 MW wind, 1 MW solar and a 1MW /250kWh battery, providing the town of Coober Pedy with up to 70 per cent renewable energy over a 20 year project life.
EDL's existing power station (comprising 3.9MW of diesel generators) will be upgraded with additional equipment to integrate the renewable power.
ARENA CEO Ivor Frischknecht said the agency's long-lens investment focus has allowed it to work together with EDL throughout the two year conception phase.
He described the Coober Pedy project as a "prime example" of Australia's world-leading expertise in devising renewable micro-grid solutions with strong export potential.
"This is a next-generation off-grid project, taking advantage of advanced renewable and enabling technologies that have already been successfully trialled at off-grid locations such as King Island," Mr Frischknecht said.
"Combining wind, solar, battery storage and smart control systems could provide a blueprint for off-grid communities to access cleaner and cheaper power and achieve energy independence by greatly reducing their reliance on trucked-in diesel."
The project, to be completed in the first quarter of 2018, is underpinned by a 20 year power purchase agreement with the District Council of Coober Pedy, supported by the South Australian Government.