Danish company Universal Robots has announced the launch of Universal Robots+, a showroom of plug & play applications that offer a new level of simplicity for the company's customers when installing a new robot application.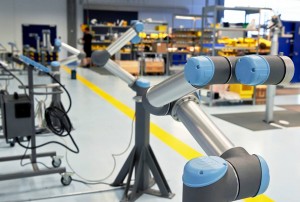 The company said that the aim of Universal Robots+ was to reduce costs and implementation periods, as well as increase user satisfaction and experience.
"Universal Robots+ offers accessories, end-effectors and software solutions meaning both distributors and end users can save weeks and even months in the integration process from concept to operation of the UR cobots," Universal Robot said in a press release.
"URCaps, accessory components that extend the UR robots' capabilities, can be customised hardware components, software plug-ins or a combination of both."
Esben H. Østergaard, CTO and co-founder of Universal Robots, said the company was also launching +YOU, a free developer programme, offering a marketing and support platform for UR-robot application developers.
"With Universal Robots+, everyone can benefit, including our developer community, our distribution partners and our end customers," Mr Østergaard said.
"Participants in our developer programme +YOU will receive free support when developing URCaps. By integrating the accessory components showcased at the Universal Robots+ showroom, our distribution partners and end users reduce spending on application development and testing when they deploy the URCaps as simple plug & play solutions."
Stefan Tøndering Stubgaard, Manager of Universal Robots' Corporate Technical Support explained how developers and distributors will benefit from Universal Robots+.
"When developers have received our approval for designing within Universal Robots+, we will support them via our local subsidiaries by providing robots for testing and optimising URCaps," Mr Stubgaard said.
"On request, robots can also be purchased at a reduced price, given that they will be used exclusively for the development and testing of new UR-related components."
After completion of a URCaps prototype, the developer will send it to Universal Robots for examination.
"Before a new product can be presented in our showroom, we verify its quality. In comprehensive functionality tests, we test whether the URCap can be implemented and operated easily and if the product conforms to Universal Robots' quality requirements," Mr Stubgaard added.
Additionally, developers can get their URCaps certified by Universal Robots by documenting that their solution is already operating in a real application and is used successfully by a customer.
"Having capabilities featured in the Universal Robots+ showroom is free of charge for developers. In providing this, Universal Robots offers all developers a professional marketing platform granting them access to an ever expanding, global customer network. Sales of all products and capabilities revolving around the UR-robots' universe will continue to be provided through Universal Robots' established network of distribution partners," read the press release.
"In this way, distributors also benefit from this central platform, where they can both offer and access applications developed specifically for the use with UR robots. Universal Robots+ is the toolbox that tailors optimal solutions for their individual customer needs."
Universal Robots said that in order to enter the Universal Robots+ Community and have their application solutions featured in the Universal Robots+ showroom, developers must complete a free registration in the +YOU community forum where developers can submit their application ideas.
"After meeting registration criteria, the developers will receive access to the +YOU online forum, where they can exchange questions and ideas. In addition, all members of the community will receive access to the company-internal developer support, which will assist (if necessary) in developing a market mature application. Additionally, the URCaps Software Development Kit can be downloaded free-of-charge," it says in the press release.
The launch of Universal Robots+ coincided with the introduction of a new update for the robot arms' operating software.
Mr Østergaard said the new release (Software Version 3.3) includes updates such as the Profinet IO device functionality. According to him, the new compatibility with Profinet protocols opens up numerous additional areas of deployment and activities for robots.
"A key feature of the update supporting the Universal Robots+ platform is the ability for providers to now offer solutions that interface seamlessly with the UR software," he concluded.
Universal Robots+ and the +YOU forum are now accessible online, with the first URCaps are on display in the Universal Robots+ Showroom.