3D Systems has announced that it has acquired botObjects and that it plans to launch the CubePro® C, a new desktop full-colour 3D printer powered by botObjects' technology.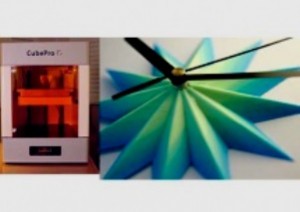 botObjects is a UK based 3D printer maker that invented a proprietary 5-color CMYKW cartridge system, capable of mixing primary printing colours on the fly to generate vibrant colour combinations and gradient transitions.
The company also pioneered the first 3D desktop printer using PlasticJet Printing (PJP) that offers true full-colour 3D printing.
"Joining the winning team at 3DS couldn't have come at a better time as orders for our revolutionary full-colour desktop printer continue to outstrip our resources. Together we can bring this powerful technology to more users faster," said Martin Warner, co-founder and CEO, botObjects.
"We are thrilled to ad ground-breaking full-colour with ultra-thin-layer and high-speed technology from botObjects to our expanding consumer and prosumer 3D printing portfolio. We are even more excited to team up with botObjects founders, Martin Warner and Mike Duma, and together democratise the availability of this powerful 3D printer and accelerate its adoption globally," said Avi Reichental, President and CEO, 3DS.
According to the media release by 3D Systems, the new CubePro C is capable of printing down to 25-microns layers at deposition speeds of up to 175 millimetres per second using durable PLA and ABS print materials with PVA support material.
International CES 2015 attendees will get a chance to see the revolutionary CubePro C for the first time this week at the 3DS booth, located at the Sands Expo, booth 72225.