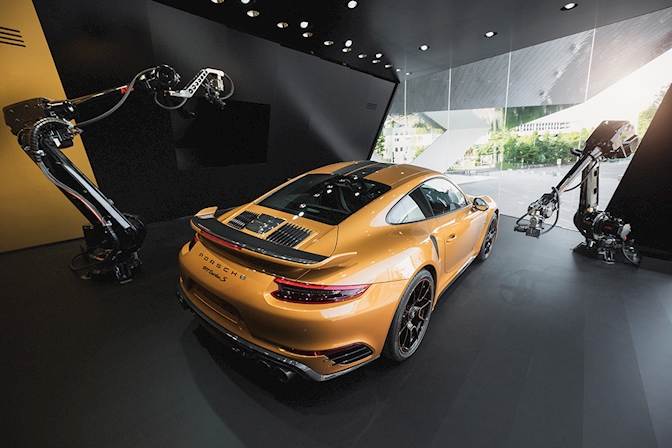 The newest version of Porsche's iconic 911 model is being showcased to car fans around the world using ABB robots.
Originally released 50 years ago, the Porsche 911 has been recognized as one of the most powerful high performance cars ever made.
In the wake of the 50th anniversary of the iconic car, Porsche has created a special gold-coloured limited edition of the new version which is now being presented to fans around the world at Porsche's exclusive launch in Germany using two camera-equipped ABB IRB 4600s robots.
ABB said the technically challenging exhibit allows online users to control the two ABB IRB 4600s robots to view the entire car from all possible angles.
"Online fans from anywhere in the world can view one of the new edition cars through a unique, interactive experience in which they control two camera-equipped ABB IRB 4600s robots," the company said in a statement.
"By using a web-based landing page, the online user can direct the robots to move around the car to precisely position the cameras showing the car from nearly any angle."
Because the robots are running around the clock, the exhibition is also supported by the ABB Ability Connected Services platform which monitors the robots' health and performance, and proactively alerts operators of potential problems before an issue actually occurs.
The month-long exhibition, which kicked off on 8 June 2017, is being held in a specially-built glass box in front of the Porsche Museum in Stuttgart-Zuffenhausen, Germany.