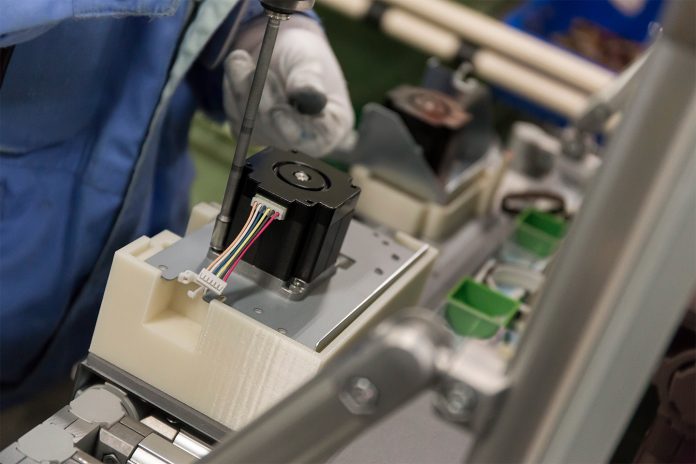 Japanese multinational imaging and electronics company Ricoh is replacing traditional metal tooling at its Production Technology Centre assembly line with Stratasys' customised, lightweight 3D printed jigs and fixtures to improve manufacturing efficiency and minimise manual tooling errors.
Ricoh is a leading developer and manufacturer of high quality office equipment such as copiers, fax machines, large scale printers and projectors.
Taizo Sakaki, Senior Manager of Business Development at Ricoh Group, said the competitive nature of the electronics industry compelled the company to search for new ways to fast-track product launches while maintaining or lowering its production costs.
He said the quest for manufacturing modernisation has ended with the adoption of Stratasys Fortus 900mc Production 3D Printer, which allowed the company to produce customised and lightweight tools using durable ABS thermoplastic.
"Because we are producing an enormous number of parts, it takes a lot of time and effort to identify the right jigs and fixtures for each one," Mr Sakaki explained.
"This manual process has become even lengthier as the number of components grows, requiring that an operator examine the shape, orientation and angle of each part before taking out a tool and placing it back in its original fixture."
"Now with Stratasys 3D printing, we are able to customise the tools according to the part and produce them on demand which is helping us restructure and modernise our production process."
Omer Krieger, President of Stratasys Asia Pacific & Japan, said the company was committed to helping its customers overcome the constraints of traditional workflows and processes with a complete ecosystem of 3D printing expertise, technologies and services.
"Ricoh illustrates perfectly how manufacturing aids 3D printed with Stratasys additive technology empower manufacturers to increase their efficiency and flexibility while ultimately becoming more competitive," Mr Krieger said.
"Customised 3D printed jigs and fixtures can play an important role in enabling companies to get products to market faster and are a great example of how Stratasys applies purposeful innovation to manufacturers' goals and aspirations. Whenever you can reduce a process from weeks to days – that is a solution worth exploring."