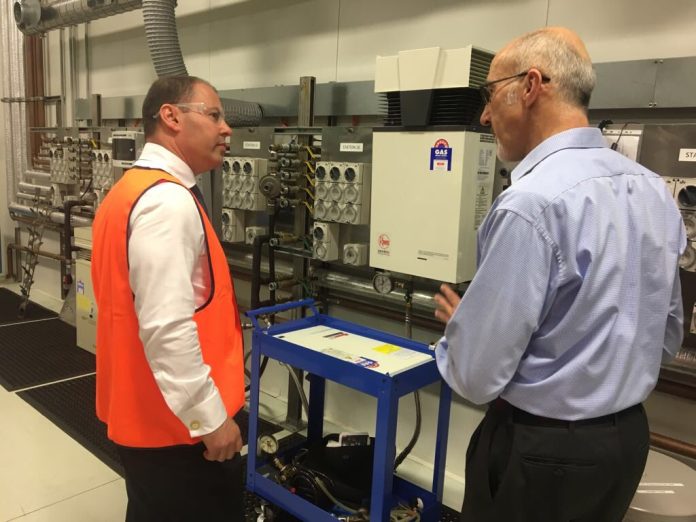 Heating and cooling equipment manufacturer Rheem Australia has officially opened its newly upgraded Sydney manufacturing facility.
The company's Chief Operating officer, Mr Chris Taylor, said the move was only made possible by Rheem's commitment to local manufacturing and design, combined with a deregulated environment.
"Rheem's investment in the facility, which encompasses state of the art manufacturing equipment and a new research and development laboratory, was only possible because of our strong belief in Australian manufacturing and design, coupled with the deregulation program spearheaded by The Hon. Josh Frydenberg, Minister for the Environment and Energy," Mr Taylor noted.
"The 'clean air' that deregulation provided has been transformational for Rheem. Not only has it enabled us to refocus on core value-adding activities such as innovation, it has also allowed us to reaffirm our commitment to Australian manufacturing and providing local jobs."
The $40 million factory upgrade was officially opened by Minister Frydenberg.
"For 80 years, Rheem has been manufacturing in Australia – employing hundreds of Australians, exporting to over 30 countries and helping develop our next generation of plumbers," the Minister said.
"Their investment in the Rydalmere facility – made possible through a stable regulatory environment – will help see that they continue to do all of this and more for at least another 80 years. The Turnbull Government understands the impact of red tape on business – hence we're reducing unnecessary costs, in close consultation with industry and regulators, so businesses like Rheem can thrive."
Mr Taylor, who referred to Rheem as a 'real world case study regarding the benefits of deregulation', described the now abandoned regulatory proposal to ban electric water heaters – a technology that forms the backbone of the company's manufacturing operations – as the peak of the regulatory 'overreach'.
"Between 2007 and 2012, Rheem faced an almost constant barrage of government regulatory proposals that impacted its water heater business," the Mr Frydenberg explained.
"At one stage, proposals for change were arriving at the rate of once every six weeks."
"We diverted a huge amount of resources to deal with regulatory issues; resources that could have been better spent on improving our global competitiveness."
He said the 2013 decision to stop the cycle of constantly changing regulatory proposals encouraged the company to make a massive investment in major site improvements, a new cylinder manufacturing line, a new furnace and conveying system, a cutting edge jacket making equipment and a new R&D laboratory and testing facility.
"The deregulation program initiated by Minister Frydenberg changed not only the process of regulatory development, but also the culture that drove it. As a result, a productive and consultative approach between industry and regulators has replaced the adversarial relationship that had existed previously," Mr Taylor continued.
"Rheem is testament to the huge, positive impact that a collaborative approach between industry and regulators can have. Ongoing discussions and briefings with both sides of politics give us hope that all legislators now understand the benefits that flow from having a considered approach to regulation."
Rheem, which has been manufacturing in Australia since 1937,  employs around 800 people throughout the country and has manufacturing facilities in NSW and Victoria.