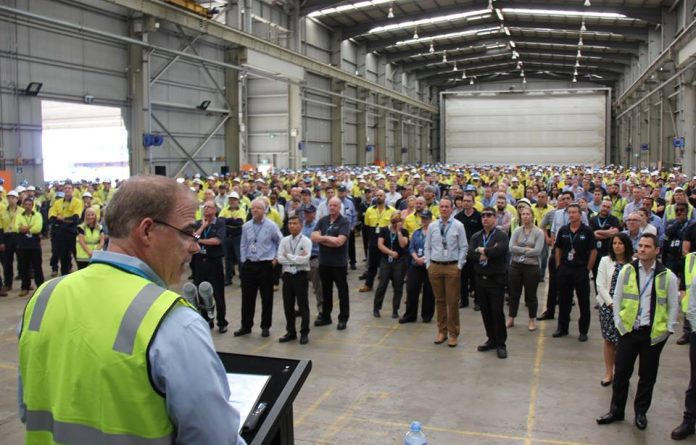 ASC Shipbuilding Chief Executive Mark Lamarre is set to leave the company after three years at the helm.
Mr Lamarre, who will be stepping down for family reasons, has successfully led the company to high performance on the Air Warfare Destroyer program, and secured future work on the upcoming Offshore Patrol Vessel (OPV) project.
Commenting on the announcement, ASC Chairman Bruce Carter said:
Under Mark's leadership, ASC Shipbuilding has become a cohesive and successful team of shipbuilders, producing great results on the Air Warfare Destroyer program with our Alliance partners and successfully winning future shipbuilding work," Mr Carter said.
"Mark leaves his role with the best wishes of the Board, executive management and the entire workforce of more than 1,000 at ASC Shipbuilding."
Mr Lamarre said the company was well-positioned to further cement its reputation as the nation's proven builder of major and complex naval warships.
"ASC Shipbuilding continues to demonstrate remarkable ship-on-ship efficiency improvements and remains well on track to achieving international benchmark productivity performance," he stated.
"I have been proud to be part of a highly skilled and professional naval shipbuilding workforce, which when combined with ASC's superior capability, lays the foundation for future shipbuilding work in South Australia – including Offshore Patrol Vessels which are set to commence in Adelaide in 2018."
The vacated position will be filled by ASC's General Manager Shipbuilding, Jim Cuthill, who will be appointed acting-CEO, ASC Shipbuilding, effective 15 December.
Mr Cuthill, who has directly managed the Company's performance in the Air Warfare Destroyer program work, joined ASC Shipbuilding in 2009 and has worked closely with Mr Lamarre as an integral part of the ASC Shipbuilding leadership team.
"It's a real honour to be appointed to this senior position, and I look forward to further strengthening ASC Shipbuilding's capability and workforce as we prepare to assist the Government further in delivering sovereign continuous naval shipbuilding," he said.
Last month, ASC secured the shipbuilding role for the initial phase of the Offshore Patrol Vessel project, and is also pursuing additional shipbuilding projects to retain its nation-leading capability.
The company is in contention to become the shipbuilder for Future Frigate program, which is currently undergoing a design Competitive Evaluation Process between three European warship designers, BAE, Navantia and Fincantieri.
Image credit: ASC Facebook page