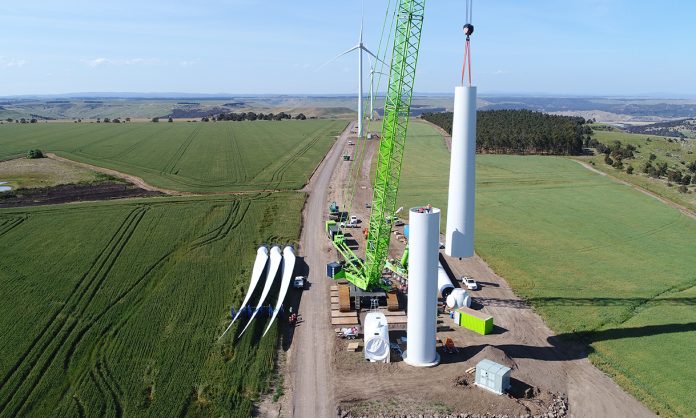 A group of local governments, cultural institutions, universities and corporations have agreed to collectively purchase renewable energy from a newly-built wind farm located about 200km north-west of Melbourne.
Members of the Melbourne Renewable Energy Project (MREP), which is led by the City of Melbourne and also includes RMIT University, have committed to purchase 88 GWh of electricity per year from the Crowlands Wind Farm under a long-term power purchase agreement (PPA).
RMIT's Chief Operating Officer Dionne Higgins said RMIT will purchase 25% of its electricity from the wind farm in an effort to further reduce its emissions profile.
"Building on the recent success of the RMIT Sustainable Urban Precincts Program and on-site solar projects, the Melbourne Renewable Energy Project represents our next step in creating a sustainable future," she said.
The 39-turbine 80 MW capacity wind farm will be owned and operated by Melbourne-based Pacific Hydro, and the power will be supplied by its retail arm, Tango Energy.
Pacific Hydro CEO Mike Fuge said the MREP approach to power purchasing enables cities, corporations and institutions to take an active role in securing renewable electricity supply and would help all of the partner organisations meet their emissions reduction goals.
"The MREP initiative is a model that can be replicated and will be key to driving future development of new renewable energy generation in Australia," he said.
"RMIT has a long history of educating members of our industry – today there are many alumni in our ranks, and this world class expertise supports all that we do."
"Beyond the electricity deal, Pacific Hydro is open to exploring further academic partnerships, research opportunities, and ways to support the next generation of graduates, helping them to connect with our industry's immense potential in the years to come."
One of Pacific Hydro's active sites in Yaloak South.
Image credit: Danny Halstead/Pacific Hydro (via RMIT)