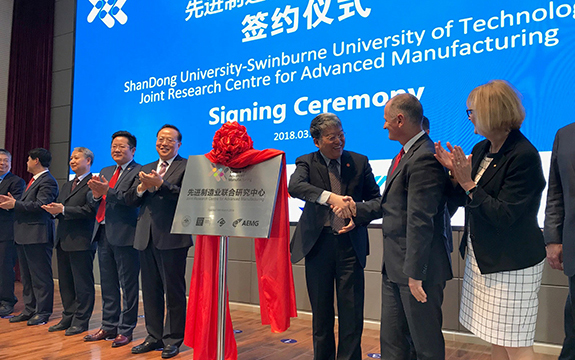 Swinburne University has announced the launch of a new research centre at the Weihai Economic and Technological Development Zone in Shandong which will connect Swinburne with industry in China and South Korea.
A partnership between Swinburne, Shandong University Weihai, Weihai Economic and Technological Development Zone and the Australian Education and Management Group, the Joint Research Centre in Advanced Manufacturing will develop advanced manufacturing technologies for 3D printing, industrial automation and robotics, carbon fibre composites and digitalisation across the value chain from design to business supply chain innovation.
Swinburne President and Vice-Chancellor Professor Linda Kristjanson, AO, said the centre will house 100 PhD research students in the first five years who will be working on high impact projects supported by industry from Australia, US and South Korea.
"Swinburne intends to broaden and deepen engagement with Shandong University and with industry in the economic and technological development zone across all domains of our endeavour," she added.
"Our vision is that the relationships we build through our initiative here in Weihai will advance and support trade between our nations across a range of sectors."
Deputy Vice-Chancellor (Research and Development) Professor Aleksandar Subic said Swinburne had also entered formal collaborations with six industry partners in Shandong.
"Our partnership model is unique as it goes beyond academic collaboration and involves industry and the economic and technological development zone," he said.
Swinburne partner, the CSIRO, joined the event following the recent launch of the Swinburne-CSIRO Silicon Valley partnership aimed at facilitating new research collaborations and increasing Australia-US research, innovation and commercialisation.
"Swinburne and the CSIRO aim to collaborate on industry projects of joint interest in China as part of our strategic research alliance," Professor Subic said.
"We live in exciting times of fundamental technological and industrial transformation. The pace and scope of ground-breaking scientific and technological advances resulting from research and innovation is unprecedented.
"We anticipate that in the coming decades, the technologies driving the fourth industrial revolution will fundamentally transform the entire structure of the world economy, how we work, create and trade. We have a responsibility to establish deeper and more trusting relationships in the region now in order for our industries and communities to benefit in the future."
Image credit: http://www.swinburne.edu.au