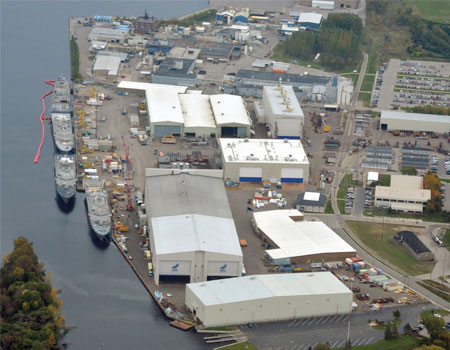 The Australian Council of Trade Unions has announced the signing of a Memorandum of Understanding with Fincantieri, a final contender for the Federal Government's SEA 5000 Future Frigates project.
The Council said in a statement that the MoU will ensure that the " once in a generation naval ship building project" produces the best possible naval vessel for the Australian Navy, while also enhancing Australia's  sovereign shipbuilding capability and revitalising its manufacturing industry.
"The commitments within the agreement signal a genuine cooperative approach between Fincantieri, its workforce and their representatives to ensure the productive use of technology, the application of modern shipbuilding practices and investment in a skilled workforce provides a clear path forward for the future of naval shipbuilding in Australia," reads the statement.
Dario Deste, Chairman of Fincantieri Australia, said SEA 5000 represents a unique opportunity for Australia's manufacturing industry.
"The significance of the project cannot be over-stated and will inject hundreds of new opportunities for defense and advanced manufacturers across the supply chain, while also creating new skilled jobs," Mr Deste stated.
He said the company's relationship with unions was a key factor in its success.
"We are very keen to ensure that our engagement with key unions is a contributing factor to the success of the future frigates project," Mr Deste said.
"If selected by the Federal Government we will actively work with the unions to address and solve issues through an ongoing communications process which is reflected in the agreement we have committed to."
"A stable industrial relations environment is a key component for project success and the MoU we have signed will help meet this objective."
ACTU Assistant Secretary Scott Connolly described the Frigate program as "critical" to Australia's national security, and the security of thousands of Australians jobs.
"This project has huge potential to create jobs and build capacity right across the shipbuilding industry and its related manufacturing supply chains," Mr Connolly continued.
"The ACTU hopes that this agreement signals the start of a constructive relationship between Fincantieri, its workforce and the shipbuilding unions."
Aside from ACTU and Fincantieri, signatories to the agreement include: Australian Manufacturing Workers' Union (AMWU), The Australian Workers' Union (AWU), The Electrical Trades Union (ETU) and Professionals Australia.
Image credit: https://www.fincantieri.com