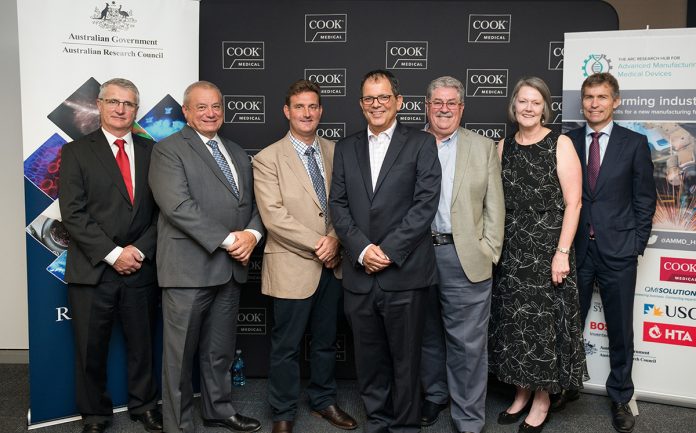 A new research hub for the advanced manufacturing of medical devices opened in Brisbane last Friday.
Located at Cook Medical Australia's premises in Brisbane Technology Park, Qld, the Australian Research Council (ARC) Research Hub for the Advanced Manufacturing of Medical Devices (AMMD Research Hub) will focus on the development of advanced materials and improvement of manufacturing technology and capabilities.
The hub brings together researchers from the University of Queensland, the University of the Sunshine Coast, the University of Sydney, RMIT, with industry partners including Cook Medical Australia, Robert Bosch, Heat Treatment and QMI Solutions.
UQ Vice-Chancellor and President Professor Peter Høj said one of the hub's key priorities was to develop better health outcomes for patients in Australia and around the globe.
"One of the intended outcomes is to reduce the time it takes to design, manufacture and supply custom-made medical devices such as endovascular stent grafts for patients with aortic aneurysm – an increasingly common condition that currently has post-rupture survival rates of only 10 to 20 per cent," Professor Høj said.
"It's an exciting venture with lots of potential, and we look forward to celebrating the results."
The hub partners have invested over $10 million of cash and in-kind funding into the national collaboration, including a $2.8 million contribution over five years from the Australian Government through the ARC's Industrial Transformation Research Hubs scheme.
Cook Medical's General Manager, Dr Samih Nabulsi, said the AMMD Research Hub had the potential to increase export opportunities for the IP derived from manufacturing process improvements, while simultaneously improving patient outcomes.
"Research and industry partnerships are key to increasing the translation of new technology in the medical device industry and growing workforce capability," he added.
"The AMMD Research Hub will result in increased growth opportunities for the sector which, in turn, translates into more jobs and increased global market share for Australian manufactured medical technologies."
Researchers at the hub have already kickstarted a number of research projects across lean manufacturing, design and materials, adaptive automation systems, digitisation, metallic biomaterials, ergonomics and collaborative robotics.
Image provided