The Geelong-based Australian Sports Technology Networks (ASTN) has been awarded a $544,000 grant under the Napthine Government's Manufacturing Productivity Networks program (MPN), which supports networks, manufacturers and research institutions to collaborate and improve the competitiveness of Victorian manufacturers.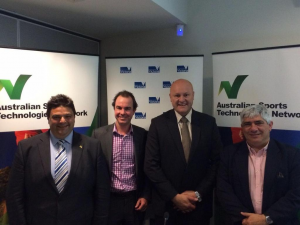 Minister for Manufacturing David Hodgett announced the grant on Friday, saying it would help the network grow Victoria's emerging sports technology industry.
"This MPN grant will help the ASTN deliver the innovative $1.088 million Victorian Sports Manufacturing Export Development Program. This grant will support the state's sports technology manufacturers to tap into the expertise of research institutions and business experts so they can better take advantage of the opportunities the $300 billion global sports technology market presents," Mr Hodgett said.
"More than 65% of Australia's sports technology industry is based in Victoria and the Victorian Sports Manufacturing Export Development Program will see the state's growing number of companies involved in the industry work with universities and research centres on globally-competitive product innovations, and help them to find new export markets."
Member for South Barwon Andrew Katos said the grant is great news for business in the Geelong region.
"The sports manufacturing technology industry is fast growing and has a strong presence in the Geelong area. Today's announcement shows the Napthine Government's support for these growing industries and for jobs in Geelong," Mr Katos said.
Mr Hodgett said the Victorian Sports Manufacturing Export Development Program will deliver a range of activities over the next 3 years to cater for various levels of export readiness.