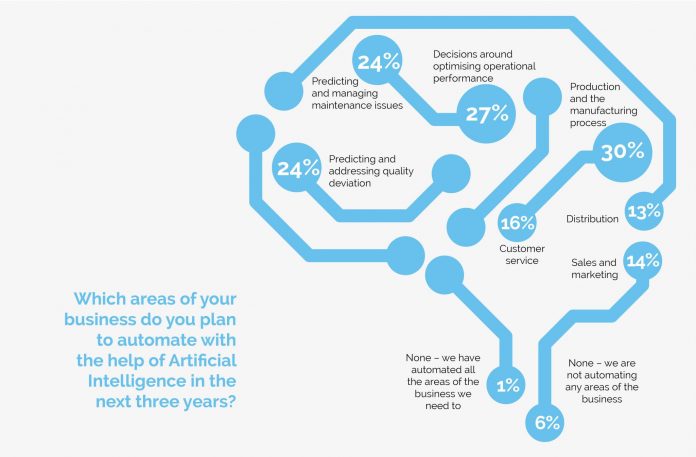 A new industry research project conducted by global SaaS asset-management firm SSG Insight has found that a third of manufacturing is expected to be automated within the next three years.
This latest industry snapshot investigates the rise of technology and the impact of Industry 4.0., drawing on extensive research amongst leading manufacturing executives.
Titled "Harnessing Technology and Insight: Manufacturers; maintaining a competitive edge in an age of uncertainty & opportunity", the report is co-authored by industrial automation and control engineering expert, Dr Hongwei Zhang and Professor Sameh Saad from Sheffield Hallam University and Jon Moody of SSG Insight.
It reveals that one in eight (12%) of manufacturers are going further with their technological evolution, by preparing to automate up to 50% of their business in the same time frame.
Artificial Intelligence (AI) has been indentified by manufacturers as an area of technology that will play a greater role in their business in the next three years.
26% of manufacturing executives predict that AI and machine learning will help automate internal areas within manufacturing businesses, primarily aligned to the production and manufacturing process including the decision making required to optimise operational performance.  AI will also be applied to predict and manage maintenance issues and address quality deviations.
Nearly all manufacturers (93%) have reported they are utilising live data and automation technology already in some capacity, most commonly to help optimise products and ensure quality consistency.
25% of respondents believe that automation, robotics, cobots and live data will play an even greater role in their business in the near future, driving improvements in speed, reducing downtime and enabling better decision making.
Furthermore, the report has found that live data is helping manufacturing businesses to be more accountable, including providing a better understanding of the workforce to create happy and safe working environments, as well as improving traceability of materials and lowering the cost of production.
Internet of Things (24%) and 3D printing and material science (18%) have also been identified as areas that will play a greater role in manufacturing over the next few years.
Image provided