The recently launched BENT-OVER Silicone Nozzle has surpassed all other building products in Australia's 100 most innovative products and services, to come in fourth in Anthill Magazine's 'SMART 100' Index. And the story of how the product came about is nothing short of fascinating.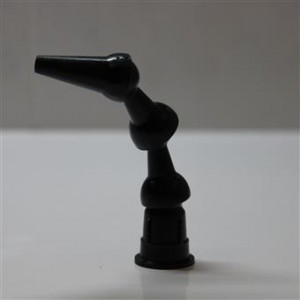 Alex John was a healthy, young man when he broke his back while on an adventure in February 2007. While recovering in the hospital for five months, with no assurance that he would be able to walk again, the plumber feared that it would be the end of his career. It was during this difficult time that inspiration took over.
"Everyday I watched the medical staff with a bendable 'demo spine' which they twisted and turned in all directions. I then had a genuine 'light bulb' moment and spent much of my recovery designing a flexible, extendable and reusable silicone nozzle that solved a problem that tradesmen have when applying silicone," says John in a feature on Anthill Online.
Out of John's tragedy came a product which would go on to win a national innovation award and revolutionize the entire plumbing industry.
BENT-OVER Silicone Nozzle is the world's first flexible, extendable and reusable silicone nozzle. John says the purpose of the BENT-OVER Silicone Nozzle is to provide tradespeople with a fast, effective and easy way to apply their silicone and sealants. The product helps in reducing costs because it cuts down on the wastage of the sealant and quickens the time it takes to apply it.
"Necessity is the cause for invention," explains John. "We Aussies are a clever bunch, we just find ways to make things easier, we don't waste time moaning about it, we simply get it done."
Having been accepted recently as part of the Australian Made, Australian Owned campaign, John says he is committed to keeping the production of the BENT-OVER Silicone Nozzle in Victoria, ensuring that jobs will remain in the State.
"We are really proud to manufacture right here in Victoria. Australia has the skills and technology to do really remarkable things. It is also the most effective way to guarantee quality of our product. We can maintain control of each step in the production process. Quality is of vital priority – it's important to Aussies, so it's important to us," he explains.
The SMART 100 Index was created by Anthill Magazine in 2008 to identify and rank Australia's 100 most innovative products.
Anthill founder and Editor-In-Chief James Tuckerman says,"Innovation is future focussed. It is about identifying and solving problems in ways that will change the way we live, do business and think."
The BENT-OVER Silicone Nozzle has already captured the attention of UK-based distributors who want to take the Aussie invention worldwide.