The Australian Manufacturing Workers' Union (AMWU) says the auto-industry needs the support from both sides of the Government or the country will face the risk of losing 200,000 jobs.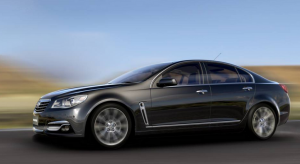 The statement comes after shadow Treasurer Joe Hockey questioned the continuing support for Holden.
On Thursday Mr. Hockey said governments need to think twice about throwing money at a single manufacturer, saying "There comes a point where you need to say enough is enough."
"The fact is there is already a massive amount of money being provided to the automotive industry. Unless there is a very compelling case put forward by Holden, you'd need to think twice about throwing more money to a . . . single manufacturer, where so many others in the manufacturing industry are doing it tough," said Mr. Hockey, quoted in an article on The Australian.
AMWU says Hockey's comments show that the Coalition is willing to put thousands of jobs at risk by creating doubt about the extent of Government support for the automotive industry.
"At a time when Holden is considering its long-term future in Australia, it is shocking that a senior member of the Coalition would make such destabilising comments," said AMWU National Secretary Paul Bastian.
"What Mr. Hockey needs to understand when he tries to score political points, is that the jobs and livelihoods of thousands of people are at stake."
"We need the Coalition to commit to supporting the Australian automotive industry if they win this year's election."
Bastian explained that losing auto manufacturing will cause a domino effect on the entire manufacturing industry since every major car plant is at the center of a network of suppliers and indirect workers that together number 200,000 employees.
"Whether your [sic] in textile manufacturing, electronics, precision engineering, paint, rubber, plastics, glass and so on – auto manufacturing has a knock on effect throughout the manufacturing sector," said Mr. Bastian.
"Government co-investment in the car industry creates jobs and supports a hub for innovation, development and training that benefits the rest of the manufacturing industry."
"The last thing the Australian automotive industry needs is more uncertainty about future investment environments."
Last week Holden revealed that its survival depends upon workers taking a pay cut of up to $200 per week, despite union officials indicating that they will not give up wages and conditions.
A senior Holden insider said they will shut down operations if the workers vote no to pay cuts.
South Australian Manufacturing Minister Tom Kenyon has also expressed strong concern over the issue saying "this is not some game that they're playing trying to screw more money out of the Government. This is a genuine commercial position that they are in, forced by all number of factors, including the high dollar and various things around the world."
However according The Australian report, Tony Abbott says the Coalition will only support boosting a $275 million Government grant if Holden can present credible plans to reduce cost of production and boost their volumes through a serious export strategy.