A robot designed by students from the School of Aerospace, Mechanical and Manufacturing Engineering will be competing in the Warman Design and Build Competition in September.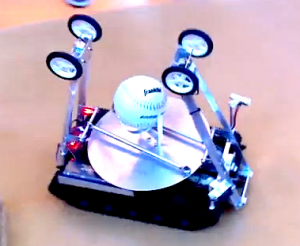 The competition, which is held in Sydney, brings together the engineering minds of students across Australian and New Zealand – with the focus on harnessing and further developing Engineering Design in Australia.
The second year Bachelor of Engineering (Mechanical Engineering) and Bachelor of Engineering (Automotive Engineering) students representing RMIT university in the competition are Jake Shuffell, James Crowe, Rob Dyck, Yankai Zhao and Dragan Malenic.
The group was selected for the national competition after successfully competing against 38 RMIT teams, who also built and designed their own robots.
Project coordinator Dr Reza Hoseinnzhad believes time management was a serious challenge for the teams, who had to execute such a task with very little time.
"Students had only 12 weeks to gradually learn the principles of electronics, programming, sensors and motors and fully design their system from scratch and build and program it to perfection. The students experienced a true example of professional engineering project work, as it happens in the workplace," Dr Hoseinnezhad said.
Dr Hoseinnezhad believes RMIT had one of the best teams in the national competition this year.
"The students are highly talented in mechanical and electronic design and programming of their robot, which has one of the most robust designs and can perform in the competition perfectly," he said.
The Warman Design and Build Competition, sponsored by Weir Minerals, is coordinated by Engineers Australia.