KDR Gold Coast, a consortium member for GoldLinQ, has awarded power and automation group ABB with a three-year contract to provide maintenance supervision services for six medium-voltage DC traction substations that are providing power for the Gold Coast Light Rail project in Australia.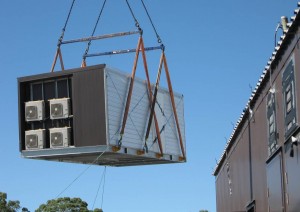 Traction substations are key installations in the power grid that facilitate the efficient transmission and distribution of electricity, providing reliable power for mainline trains, metros and mass transit networks.
Optimising substation performance for the Gold Coast Light Rail project is critical to meeting the transport needs of over 18,000 G:link commuters who rely on the rapid transit system each and every day.
Under the terms of the agreement, ABB will provide a customised maintenance and service solution that will ensure the six ABB-designed, manufactured and commissioned traction substations continue to provide maximum reliability and power for the light rail system operated by KDR Gold Coast.
ABB said it will utilise the most advanced diagnostic and repair practices to provide 24 hour support with a guaranteed response time, annual preventative maintenance and access to NEPLAN® diagnosis for six transportable substations.
EPLAN is a planning and information system designed for managing, analysing and optimising all voltage levels of electricity networks. The collection and analysis of condition and diagnostic data throughout the lifecycle of equipment is permitting a shift from time-based to condition-based maintenance, maximising availability and reliability while also reducing the costs of interventions and the associated downtime.
"This tailored service approach and expert support means KDR Gold Coast can rely on ABB as their specialist service provider," said Axel Kuhr, General Manager for ABB in Australia.
"Combining more than 100 years of innovation and experience in the substation domain and rail sector allows us to maximise power availability and keep operating costs as low as possible for our customers."
The six substations are rated at 11 kV (kilovolt) AC (alternating current) / 750V (volt) DC (direct current) and are housed in transportable outdoor buildings with key technologies integrated. These products include rectifiers, DC switchgear, SafePlus medium-voltage switchgear, dry-type rectifier and auxiliary transformers, leakage current monitoring systems and auxiliary equipment.
ABB is a world-leading supplier of substations covering a range of voltage levels up to 1,100 kV. The company is set to launch a new prefabricated DC substation in Australia this year.