Leading power and automation company ABB has announced that its new software for programming of applications such as machining, deburring, polishing, grinding and deflashing is now available on the Australian market.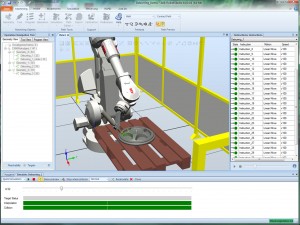 The Machining PowerPac software is the company's latest RobotStudio add-in and can be used with a number of CAD model-based path generation applications.
"ABB puts a lot of effort into creating innovative solutions that address the needs of our customers," said Daniel Pintar, Product Manager, Machine Tending, Material Handling and Machining ABB Robotics.
"The Machining PowerPac add-in for RobotStudio addresses our customers' leading concerns. It is easy, fast and flexible and allows users to generate precise robot paths without having to teach them. In addition, the integrated post-processor generates accurate robot paths from the CAM software so the robot machining application can be completed more rapidly than ever before."
The Machining PowerPac allows users to take advantage of several strategies to generate machining path and curves.
"By optimising the speed, acceleration or axis setting you can dynamically preview the tool path and ensure the right target robot configuration," the company said in a media release.
"Furthermore, the Machining WAVE Paths and Tool Axis Interpolation features are instrumental for extending the life time of the machining tools by creating smooth tool axis changes and flexible tool contact points."
For more detailed information about the ABB software, please go to www.new.abb.com