Swiss power and automation technology specialist ABB and Microsoft will collaborate to launch a new fast-charging services platform.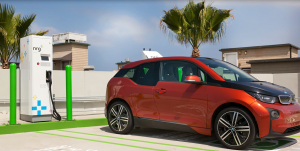 According to the announcement, Microsoft will provide its Azure cloud platform to be connected with ABB chargers.
The new EV charging services platform will be introduced at eCarTec, the world's largest trade fair for electric and hybrid mobility, scheduled to take place from 20–22 October in Munich, Germany.
The new platform is set to ensure stability, global scalability and advanced management features for ABB customers.
"Platform performance and stability are critical differentiators for the successful operation of a modern, data-dependent EV charging station. By partnering with Microsoft, ABB will be able to offer best-in-class operations as well as innovative advanced services — what we call the Internet of Things, Services and People," said Pekka Tiitinen, president of ABB's Discrete Automation and Motion Division.
"This partnership gives us the solutions, scalability and global agility to support expanding demand for EV charging infrastructure in the world's major automotive markets, which is a key focus of our Next Level growth strategy."
Currently there are just 106,000 publicly accessible EV charging stations globally, and global revenue from electric vehicle charging services is set to grow from $152.6 million in 2015 to $2.9 billion by 2023, according to Navigant Research.
"Today we live in a mobile-first, cloud-first world, and this is ever apparent in the global electric vehicle market," said Peggy Johnson, executive vice president of business development, Microsoft.
"Our partnership with ABB aligns to one of our company ambitions to build the intelligent cloud platform, and we look forward to our technology and services becoming a differentiator for ABB's solutions."