The Welding Technology Institute of Australia (WTIA) has named shipbuilder ASC Company of the Year for its work on the air warfare destroyer (AWD) program.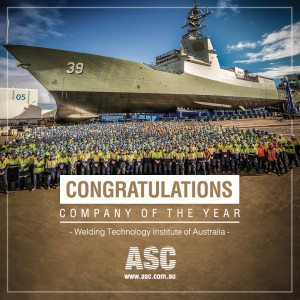 The company was recognised for its quality improvement, training and innovation.
"Just six years ago our shipyard and shipbuilding workforce did not exist and the transformation from greenfield site to a modern working shipyard has been incredible," said ASC Shipbuilding Interim Chief Executive Officer Mark Lamarre.
"In 2015 ASC has achieved a welding failure rate, as measured by combination of radiographic and ultrasonic testing, well below the industry standard. This has been achieved through investments in training and education, a focus on weld failure analysis, enhanced feedback between supervisors and welders and by leveraging state of the art technology."
Over 100 ASC welders are working on the AWD program, and a further 30 are working on the Collins Class submarine maintenance program.
Welding production superintendent Dan Millar said ASC's workforce has successfully proven that it can produce the most advanced and complex ships in Australia.
"Our welders and everyone else working on the project, have achieved this result through hard work and determination," Mr Millar said.
Mr Lamarre added that the company will to continue to improve shipbuilding productivity and apply the lessons learnt from the first AWD to follow ships.
"On a cost/percent complete basis, ASC is realising a greater than 30 percent improvement on Ship 02 over Ship 01, and a greater than 10 percent improvement on Ship 03. Importantly, welding and other shipbuilding skills, knowledge and expertise developed at ASC on this project can be applied to future shipbuilding projects," Mr Lamarre said.