Global Technology company ABB has announced the release of Azipod XL, the latest version of its market leading podded electric propulsion system which set an industry standard for the marine industry since its introduction 25 years ago.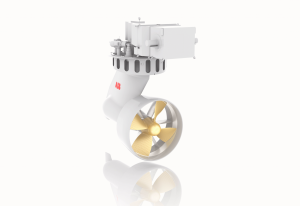 Azipod propulsion is a gearless steerable propulsion system with the electric drive motor located in a submerged pod outside the ship hull. Featuring a 360-degree manoeuvring capability, it is used to both steer and drive a wide variety of vessels at the same time.
Azipod XL increases vessel fuel efficiency to an unprecedented level of up to 20% compared to modern shaft line propulsion systems by using a unique nozzle system that accelerates the water flow into the propeller to increase thrust, and by redesigning the thruster for reduced water resistance.
Azipod propulsion systems have thus far clocked more than 12 million running hours with an availability of 99.8%, saving over 700,000 tons of fuel.
Peter Terwiesch, president of ABB's Process Automation division said the Azipod XL system fits vessels such as tugs and offshore construction vessels, as well as ferries and LNG tankers.
"We continuously strive to advance our technology to the benefit of our customers and the environment, as part of our Next Level strategy. Azipod XL is a perfect example for this approach as it represents the biggest jump in the systems' fuel efficiency in recent years," Mr Terwiesch said.
"To put it in perspective, replacing all existing Azipod units with the new model would save the shipping industry an additional 2.2 million tons of fuel and 7 million tons of carbon dioxide over the next 25 years."
Azipod XL's features include the capability for advanced condition monitoring using ABB's concept of the Internet of Things, Services and People (IoTSP) and its Integrated Operations Centers for Marine, continuously monitoring equipment and performance parameters of more than 600 vessels.