The age of people and robots working together has finally come. Leading power and automation technologies company ABB has unveiled YuMi® – the first collaborative robot in the world that will be able to work alongside humans on the same tasks.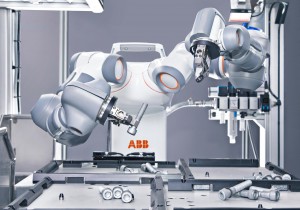 YuMi® is a human-friendly dual arm robot created to meet the needs of today's consumer electronics industry, ABB revealed in a media release.
"YuMi is going to change many of mankind's assumptions about manufacturing and industrial processes. Yumi will open endless possibilities. We are at the start of a very exciting new era for industrial automation," said Pekka Tiitinen, Head of the Discrete Automation and Motion division.
"Naming this robot YuMi reflects the true spirit of human – machine collaboration – humans and robots sharing tasks side by side in ways we could never have imagined previously," added Per Vegard Nerseth, head of ABB's global Robotics business.
YuMi® has soft, padded arms and is equipped with the latest innovative force-sensing technology, so it can basically see and feel its surroundings. With safety in mind, the robot was designed to work alongside humans and is able to perform its tasks with accuracy and speed.
The official launch is scheduled for 13 August 2015 at the world's largest industrial technology fair, at the Hannover Messe in Germany.
YuMi® will break ground in the consumer electronics industry where it will handle delicate and precise parts and components, but its creators state that it's just a matter of time before it is rolled out to cover other market sectors.