Aluminium giant Alcoa has completed its $300 million expansion project in Tennessee that will provide aluminium sheet to automakers, such as Ford, Fiat Chrysler and General Motors.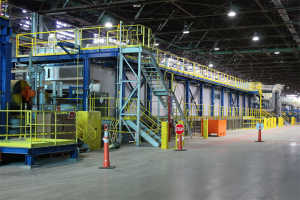 According to the company's news release, the expansion created 200 jobs.
This is Alcoa's second major automotive expansion in North America backed by long-term customer contracts in less than two years. The first was the $300 million Davenport Works expansion completed in January, 2014.
The facility is equipped with rolling mill technology that allows it to switch production depending on changing market demands, moving between automotive and can sheet production.
"Automakers are demanding lighter, stronger materials that improve the performance of their vehicles and Alcoa is at the forefront of capturing that demand," said Klaus Kleinfeld, Alcoa Chairman and Chief Executive Officer.
"Through our capacity expansions in Tennessee and Davenport, and breakthrough technologies like the MicromillTM, we have cemented Alcoa's position as the premier partner to the automotive industry as it turns to aluminium."
Alcoa executives, Tennessee Governor Bill Haslam and other state and local officials celebrated the expansion in Tennessee with a ribbon cutting event.
"We want to thank Alcoa for this project and the 200 new jobs in Blount County," said Governor Haslam.
"When a world renowned company like Alcoa expands here in Tennessee, it shows we can compete in the global marketplace, and it strengthens Tennessee's continued growth as a leading automotive manufacturing state."
Alcoa expects aluminium body sheet use in North America vehicles to increase eleven fold by 2025.