Leading aluminum producer Alcoa and Russia's VSMPO-AVISMA Corporation have entered into an agreement that will combine the two companies' expertise to meet the growing demand for high-end titanium and aluminum products for aircraft manufacturers worldwide.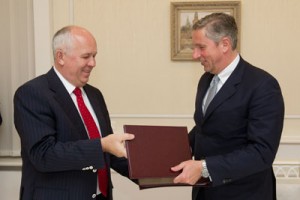 According to a media release from Alcoa, its Chairman and CEO Klaus Kleinfeld and VSMPO-AVISMA Chairman Sergei Chemezov signed the cooperation agreement in Moscow, the first step in forming a new joint venture.
VSMPO-AVISMA is the world's largest manufacturer of titanium ingots and forged products. Combined with Alcoa's expertise in manufacturing value-add products, the JV will produce high-end aerospace goods, such as landing gear and forged wing components, at Alcoa's Samara plant.
"The agreement marks an important step in leveraging Alcoa's and VSMPO-AVISMA's strengths in innovation and manufacturing to capture opportunities in the high-growth aerospace market," said Mr. Kleinfeld.
"This alliance will enhance Alcoa's competitiveness and position our global aerospace business for continued profitable growth."
Mr. Chemezov said their company actively collaborates with global industrial leaders for large scale projects.
"Our partnership with Alcoa will help increase our productivity, expand our offerings to customers, and help VSMPO-AVISMA move forward on our strategy to increase the share of our value-add products."
VSMPO-AVISMA General Director Mikhail Voevodin also said the agreement adds to their current manufacturing capabilities as it gives them access to new forging equipment.
"This step enables us to increase our output and ensure the consistency of supply, allowing us to meet growing demand for our products from leading global aircraft manufacturers."
Meanwhile, Eric Roegner, Chief Operating Officer of Alcoa Investment Castings, Forgings and Extrusions said "This manufacturing partnership will expand on our mutual and complementary strengths in making the largest and most advanced aerospace forgings in the world."
Alcoa invests more than $40 million each year to develop new products and cutting-edge aerospace technologies as part of its approximately $4 billion aerospace business. The company said the aerospace market is expected to grow by 9-10 percent in 2013, based on October 2013 estimates.
The JV is expected to be operational in 2016. Additional terms of the transaction were not disclosed.