The quest for developing a fully operational vehicle powered by clean electric energy has taken a major leap forward as Hino Motors announced that the trial of its fully electric commercial vehicles has been a success.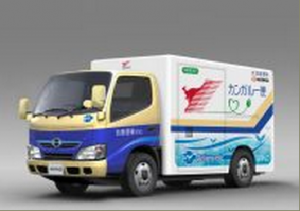 For the past six months three prototype all-electric Hino 300 Series trucks vehicles have been placed under performance evaluation by two major Japanese transport companies, who have been using them alongside their traditional diesel and hybrid diesel/electric powered vehicles.
According to Hino Australia Product Planning Manager Daniel Petrovski if people were to see a 300 Series electric prototype parked on the street, it wouldn't be obvious that it was an all-electric or even a prototype vehicle.
"Nevertheless, the entire architecture of the truck is different- it has a lithium-ion battery that powers an efficient electric motor which actually drives the front wheels," Mr. Petrovski said in a press release. 
Mr. Petrovski said the front-wheel drive gives considerable advantages to the light-duty commercial vehicle.
According to him, this approach enabled the designers to place the batteries inside the frame between the axles, where the drive shaft and fuel tank are traditionally nestled.
The lightweight electric motor resides in the place of the diesel unit, which directly powers the front wheels.
The vehicle does not require a gearbox and a clutch because of the powerful torque of the electric motor, but also because there is no need to maintain idle if the truck is stopped.
Because of the simplistic features of the vehicle, Mr. Petrovski compared the driving experience of the prototype with that of "driving a golf cart".
Mr. Petrovski also commented on the environmental impact that the new all-electric vehicle might have on a city environment.
"As we're all aware, cities are a focal point for pollution from airborne waste, noise and hazardous fuel products," he said.
"The electric 300 Series prototype solves these problems in one fell swoop. Replacing the internal combustion engine with an electric motor means no hazardous fuels or oils are used for power or lubrication."
Mr. Petrovski concluded that the 300 Series electric prototype set the bar for clean, green and quiet commercial transport, which is to be regarded as a major leap forward in that regard.