Alcoa of Australia Limited announced on Thursday that it managed to secure a new 12-year gas supply agreement to power its alumina refineries in Western Australia.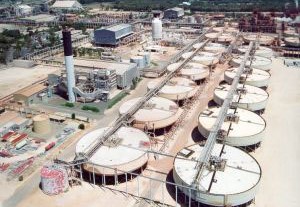 According to the company's press release, the agreement is conditional on a consortium comprising of Brookfield Asset Management Inc. and Macquarie Capital Group Limited completing the acquisition of Apache Energy Limited's Western Australian oil and gas assets from Apache Corporation.
Under the agreement – due to commence in 2020 – Alcoa of Australia will receive an initial supply of 120 terajules of natural gas per day, which, combined with a number of smaller agreements, means that the company has now secured approximately 75% of its Western Australian natural gas requirements.
As part of the supply agreement, Alcoa will make a prepayment of US$500 million in two instalments – US$300 million on financial close of the Apache asset sale in mid-2015 and US$200 million in 2016.
"This new agreement is significant in providing long-term energy solutions for our refining assets in Western Australia, and is great news for our employees, suppliers, customers and the communities where we operate," said President Alcoa Refining and Managing Director, Alcoa of Australia, Alan Cransberg.
"Our refineries in Western Australia supply more than 8% of global alumina demand. Securing a low cost position for these facilities is closely aligned with Alcoa's strategy of creating a globally competitive commodity business."
Mr Cransberg said the Company would continue to work towards ensuring 100% of its WA energy requirements are met when existing long-term contracts expire at the end of the decade.
"While this contract alleviates most of our medium term need, we continue to be very concerned about the ability of businesses in Western Australia to secure long term, internationally competitive gas supplies," Mr Cransberg said.
"This is essential for industries like ours that add value through domestic processing and compete in a global marketplace. The availability of domestic gas remains a key issue for the future prosperity of Western Australia."
Alcoa of Australia Limited is 60% owned by Alcoa Inc. and 40% owned by Alumina Limited. The company owns and operates two bauxite mines and three alumina refineries in WA, the Portland Aluminium smelter, a coal mine and a power station in Victoria.