Alstom's factory in Ballarat will remain open thanks to the purchase order by the Victorian Government for 30 new Xtrapolis train carriages.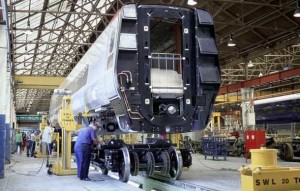 With the government investment, 70 jobs are now secure and the company will be able to tender for more contracts once the state budget is passed in May.
The announcement was made yesterday at Alstom's Ballarat factory by Premier Daniel Andrews who was joined by Minister for Public Transport, Jacinta Allan, and Ballarat MPs Sharon Knight and Geoff Howard.
"This investment is good for workers, good for Ballarat and good for every single person who uses Melbourne's train network. We were elected to invest in public transport, rebuild our economy and get Victoria back to work – and we're getting on with it," said Mr Andrews.
"The previous Liberal Government left Alstom in the lurch and left the livelihoods of their workers in limbo. Our plan gives workers certainty, boosts Ballarat's economy and upgrades Melbourne's public transport system," said Minister Allan.
Under the terms of the contract the new trains, which will be used on the Melbourne train network, will include around 40% local content.
The new carriages, valued between $75 million and $90 million, will form five trains that are set to be on metropolitan tracks by mid-2017.
The Ballarat plant would have been left without any work within the next five months if no new orders had been placed.
Ballarat is currently completing an order of eight additional X'Trapolis sets for Public Transport Victoria. The order was placed in June 2013 to supplement the 74 trains already in service in the city.
The announcement was also welcomed by Dandenong manufacturers that supply train components to Alstom.
Alstom employs over 800 people at 18 different sites in Australia and New Zealand. The company has three service workshops in New South Wales, Victoria and Tasmania and manufacturing facilities in Victoria and Queensland.