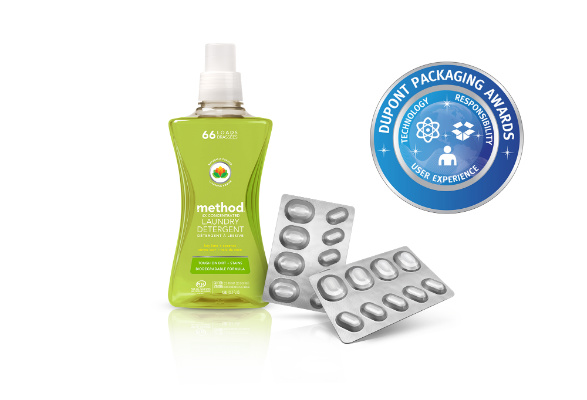 Leading packaging solutions company Amcor has been recognised by the 28th annual DuPont Awards for Packaging Innovation competition for its leadership in delivering technologically advanced and sustainable solutions for the home care and pharmaceutical industries.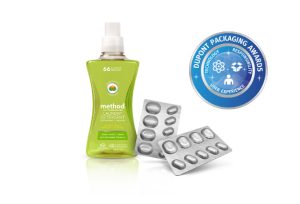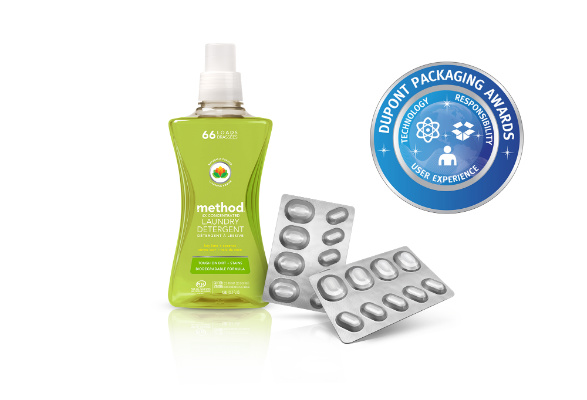 The company's Rigid Plastics segment won a Diamond award in the Technological Advancement, Responsible Packaging, and Enhanced User Experience categories for the development of a 53oz polyethylene terephthalate (PET) bottle for Method Products which contains 100% post-consumer recycled (PCR) PET resin.
Additionally, Amcor Flexibles claimed the Gold award in the Technological Advancement and Responsible Packaging categories for Formpack® Ultra, a new cold form blister packaging for the pharmaceutical industry.
The 53oz sleek, transparent custom container is the industry's first liquid laundry bottle made of 100% PCR PET. It meets high standards for sustainability with the package's life cycle energy consumption reduced by 78% and its carbon footprint lowered by 35% versus a virgin PET alternative.
"We are delighted to be recognized by DuPont for our commitment to innovation and sustainability," said Jim Rooney, vice president of sales for Amcor Rigid Plastics' Diversified Products business unit.
"Our primary objective is partnering with customers and creating unique solutions like this 100% PCR PET bottle which delivers major sustainability benefits for Method and reinforces its strong environmental platform."
Formpack® Ultra is a cold form blister product that offers greater elongation than standard cold form solutions, resulting in cavities than can be drawn deeper and with sharper wall angles than previously achieved.
This achievement allows pharmaceutical companies to design smaller blister cards or add more cavities without increasing the blister card size. Formpack® Ultra's superior elongation is possible thanks to "best-in-class" selection of raw materials, advanced manufacturing processes, and extensive quality control.
"We are thrilled to be recognized again with a DuPont Innovation Award," said Andrea Della Torre, R&D director for Amcor Flexibles.
"Formpack® Ultra is a technical advancement and supports more responsible and sustainable packaging use across the value chain, while lowering the total cost of goods for pharmaceutical companies. This is the second award this year for Formpack® Ultra, which received an Alufoil Trophy in the Resource Efficiency category from the European Aluminum Foil Association in April."