Amcor has announced that it has inked an agreement with Relieves Egara – a world renowned developer of labelling solutions – to launch a new fully printable semi-rigid closure for wipes packaging.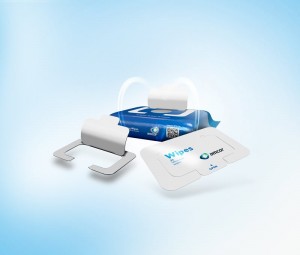 The so-called AmReclose was developed by Relieves Egara to be distributed exclusively by Amcor.
"It offers consumers the easy, one-handed click open motion of hard plastic closures in a thinner, more portable solution," said Thomas Fessler, Product Development, Manager Home and Personal Care for Amcor Flexibles.
"And in preliminary tests it was more reliable for keeping wipes moist than both soft labels and hard plastic closures."
Aside from being very easy to use and apply to packaging, AmReclose brings simplification and faster line speed in the manufacturing process and also provides up to 60% carbon footprint reduction compared to hard plastic closures, creating a more sustainable pack.
"Our wipes customers are looking to bring convenience and portability to their consumers, as well as reduce their packaging's carbon footprint. We are extremely pleased to find a partner in Relieves Egara that helps us meets our customer needs," said Javier Rojo, Vice President Sales and Marketing Amcor Flexibles Europe & Americas.
For more detailed information, please go to www.amcor.com