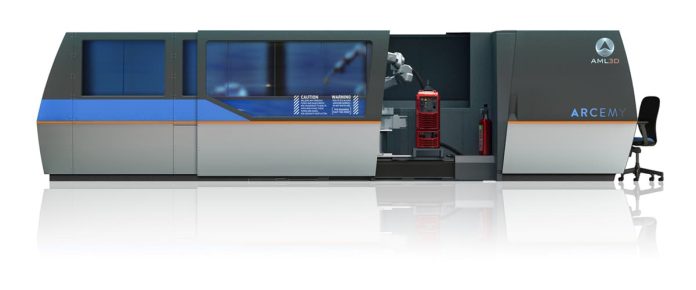 3D metal printing company AML3D has sold of one of its Arcemy WAM printing units to the Royal Melbourne Institute of Technology (RMIT).
AML3D, which earlier this week secured a key purchase order with a leading North American aerospace manufacturing company, said the $400,000 sale comprises one of its Arcemy WAM printing units, capable of 3D printing all metallic alloys with an approximate deposition rate of up to 7-8 kgs/hour, depending on the material being used.
AML3D's Managing Director, Andy Sales, said in a statement that the company would work with RMIT on the installation, commissioning and training of this unit.
"It's encouraging to see Universities and Research institutes seeing the value in our Arcemy printing modules and educational research into the WAM process," Mr Sales continued.
"To be able to supply the RMIT Additive Manufacturing Centre with our sophisticated integrated wire-based Arcemy 3D printing unit, under the guidance of Prof Milan Brandt and industry expert Alex Kingsbury is exciting and endorsing.
"There is an expectation that we will work closely with RMIT in the future around specific R&D programs that will benefit both parties in research, industry application and student based learning and research."
Prof. Brandt, the Centre Director, said AML3D's innovative 3D printing unit would be used for R&D across a number of metal alloy grades for post doctorate research, education and industry related applications and research.
"We are excited to be working closely with AML3D on delivering this new 3D printing technology to Victorian organisations," Mr Brandt stated.
"The equipment funded through the Victorian Higher Education State Investment Fund complements our current range of 3D printing technologies and opens the opportunities for working closely with Victorian and more broadly Australian organisations on delivering new products and processes based on this technology as well as train the next generation of engineers in digital manufacturing."
Image credit: https://aml3d.com/arcemy/