3D printing has amazed us so many times that each new level the technology reaches comes as a natural and expected development.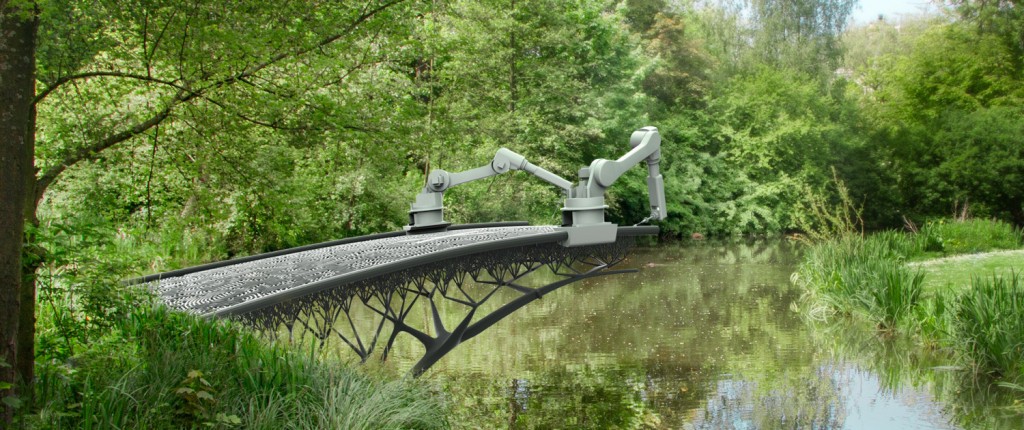 This latest achievement comes from the Netherlands. Joris Laarman, an artist from Amsterdam, has created an innovative steel pedestrian bridge. What makes this canal bridge unlike any other is the way it will be built – robots will 3D print it on site.
The MX3D Bridge project – initiated by Dutch start-up MX3D – is currently in the testing phase in collaboration with Dutch construction company Heijmans, whose innovative building projects include a Starry Night–inspired bike path and pop-up housing for millennials.
MX3D researches and develops ground-breaking, cost-effective robotic 3D printing technology.
The bridge will be 3D printed by a revolutionary robotic 3D printer that can "draw" structures in the air.
Laarman helped develop the robotic 3D printer that combined the MX3D-Resin with a welder to be able to "draw" fast-setting metal structures.
"I strongly believe in the future of digital production and local production, in "the new craft". This bridge will show how 3D printing finally enters the world of large-scale, functional objects and sustainable materials while allowing unprecedented freedom of form. The symbolism of the bridge is a beautiful metaphor to connect the technology of the future with the old city, in a way that brings out the best of both worlds," said Laarman.
The MX3D Bridge project will be supported by collaborators Autodesk and Heijmans, sponsors Air Liquide, ABB robotics, STV, Delcam, Within, Lenovo and public partners TU Delft, AMS, Amsterdam City Council.
"What distinguishes our technology from traditional 3D printing methods is that we work according to the 'Printing Outside the box' principle. By printing with 6-axis industrial robots, we are no longer limited to a square box in which everything happens. Printing a functional, life-size bridge is of course the ideal way to showcase the endless possibilities of this technique," said Tim Geurtjens, CTO MX3D
The project is quite noteworthy on its own, but it could possibly lead to much bigger things, thus marking the beginning of on-site, 3D printed infrastructure projects.
"The MX3D platform is a potential game changer. Breaking free of the traditional limitations of additive manufacturing – small size prints and poor material performance – this technology opens up possibilities for architectural-scale, relatively low-cost, metal structures that are as complex as the designer's imagination," said Maurice Conti, Director Strategic Innovation, Autodesk.