Using the latest additive manufacturing techniques to design critical structural steel components for complex architectural projects, Arup engineers have created new structures that push the boundaries of 3D printing.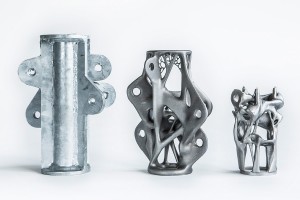 With their approach, costs, waste and the carbon footprint associated with construction processes are significantly reduced, while the structural elements produced with 3D printing, or additive manufacturing, are lighter, smaller and more efficient.
The company collaborated with numerous partners to realise the designs, including WithinLab (an engineering design software and consulting company), CRDM/3D Systems (the Additive Manufacturing partner) and EOS, who worked on the early development of the technology.
"We created a redesign of a steel node for a light weight structure using additive manufacturing. Arup has a lot of experience with these kinds of structures, for example the tensegrity structure of the Kurilpa Bridge in Australia. The complex geometry of these kinds of nodes is an ideal showcase of the possibilities of this new technique," reads Arup's press release.
"By using additive manufacturing we can create lots of complex individually designed pieces far more efficiently. This has tremendous implications for reducing costs and cutting waste. But most importantly, this approach potentially enables a very sophisticated design, without the need to simplify the design in a later stage to lower costs," said Salomé Galjaard, Team Leader, Arup.
Most recently, the Arup team released an image that graphically illustrates how 3D printing can enhance the design and production process to the point that the weight and resulting cost of future construction materials could be reduced significantly.
The three structural elements shown in the image are all designed to carry the same structural loads and forces, with one tiny difference: the smaller item on the right was designed using the latest optimisation and manufacturing methods applied by Arup.
"This is not only an exciting development for the construction sector, but many other industries as well. In the case of this particular piece, the height is approximately half that of one designed for traditional production methods, while the direct weight reduction per node is 75%. On a construction project that means we could be looking at an overall weight reduction of the total structure of more than 40%. But the really exciting part is that this technique can potentially be applied to any industry that uses complex, high quality, metal products," said Galjaard.