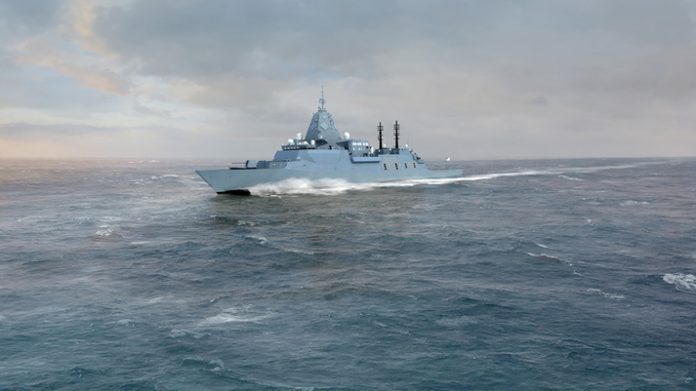 BAE Systems Australia's shipbuilding business, ASC, has placed orders for three feasibility studies examining more opportunities for Australia's local industry to participate in the build phase of the first three Hunter Class frigates.
The studies will be conducted by Queensland-based Craig International Ballistics, Adelaide-based REDARC Defence Systems, and West Australian based propeller manufacturer Veem, to determine whether they can form part of the supply chain for the build phase of the first batch of frigates.
The three companies were engaged by ASC Shipbuilding, prime contractor for the Hunter Class Program, to come up with an Australian solution for ship bridge windows and armour protection (Craig International Ballistics), an Australian solution to LED lighting (REDARC), and to examine security requirements for local propeller manufacture in Australia (Veem).
Defence Minister Linda Reynolds said ASC Shipbuilding has committed to achieving 58% Australian Industry Content over the life of the acquisition contract.
"We are on track to begin the prototyping phase of the Hunter Class Program at the end of this year, which is why it's vital we continue to form new partnerships with Australian industry as we look ahead to the build phase," Minister Reynolds continued.
"These feasibility studies announced today build on a feasibility study already underway into locally manufactured main reduction gearboxes for future Hunter batches."
Defence Industry Minister Melissa Price said the study findings, which are expected to conclude by the end of this year, would highlight new opportunities in the design, manufacture, testing and installation of equipment on the Hunter Class frigates.
"These feasibility studies ensure Australian companies are given every chance to contribute not only to the Hunter Class build, but to our continuous Naval Shipbuilding endeavor more broadly," Minister Price said.
ASC Shipbuilding Managing Director Craig Lockhart said:
"With a 30-year life-span, the building of nine submarine hunting warships provides an enormous opportunity for the nation to advance our sovereign shipbuilding capability and create long-term prospects for Australian industry.
"I have absolute confidence in Australian industry to bring ingenuity and innovation to the Hunter program, while at the same time providing valuable employment opportunities in the nation's advanced manufacturing sector at a time when we've never needed it more."
Image credit: https://www.baesystems.com/